Virgil Abloh And Louis Vuitton Collaborate On A Stunning Baccarat Collection
Baccarat is planning two collaborations, one with the late Virgil Abloh and the other with Louis Vuitton. Abloh collaborated with Baccarat on a new collection named "Crystal Clear," which was one of his final collaborations. The limited-edition collection combines industrial and classic themes, merging Baccarat's two centuries of history with Abloh's contemporary vision. A chandelier, four vases, and an unique glass with a lid and straw are included in the collection. Each item is also individually numbered and features chain-link accents. The chandelier and vases are the only items that are manufactured to order.
Image: Baccarat
Abloh has mentioned how collaborating with a company like Baccarat would align with his personal aspirations before his untimely death. "To me, Baccarat embodies the manifestation of crystal's dynamism throughout history and today," he says. The 'Crystal Clear' collection of products is a natural extension of my creativity, skilfully realized by Baccarat artisans." The pieces can be purchased here on Baccarat's website.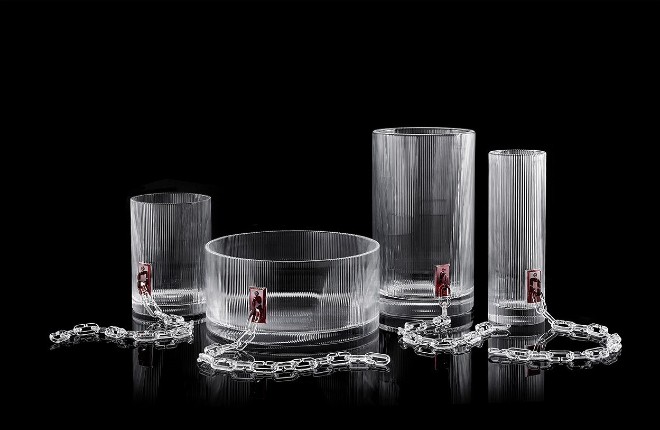 Image: Baccarat
Baccarat has also collaborated with Louis Vuitton Les Parfums to create an Ultimate Bottle in Baccarat's trademark crystal, designed by Marc Newson. The bottle has a glass dome on top and a natural leather base. Only 200 engraved, one-of-a-kind pieces are available.
Image: Louis Vuitton
"I wanted to create something quirky and enjoyable that was yet highly utilitarian for the perfume's Ultimate Bottle." Marc Newson remarked, "It's scaled up to a sculptural level and takes influence from classic fragrance displays." Three Les Parfums fragrances will be available in the Ultimate Bottle: Rose des Vents, Matière Noire, and L'Immensité.
Image: Louis Vuitton
Matière Noire is a blend of Laos agarwood and patchouli, and L'Immensité is a fresh concentration of ginger and grapefruit. Rose des Vents is a beautiful fragrance of three roses, Matière Noire is a blend of Laos agarwood and patchouli, and L'Immensité is a fresh concentration of ginger and grapefruit. The collection costs €15,000 and can be purchased at select Louis Vuitton boutiques. Aside from Abloh's collaborations with other businesses, Mercedes-Benz also announced Project Maybach, its final collaboration with the late fashion legend. It's a zero-emission solar-powered electric vehicle. It's about six metres long and dressed entirely in brown leather, giving it an otherworldly spaceship aspect.