Tiffany x Daniel Arsham Is Here
Image: Zander Taketomo for Tiffany & Co.
Tiffany & Co. has partnered up with New York-based contemporary artist Daniel Arsham in transforming its iconic Tiffany Blue Box. Together, both have created a series of 49 eroded bronze sculptures that represent the perfect juxtaposition of the past, present and future. The Bronze Eroded Tiffany Blue Box resembles a relic from the remote future and has cracks and crevices. The eroded parts even have crystal-like structures sprouting from within. In Arsham's signature style, the sculpture features a custom hand-finished patina that is a nod to both Tiffany's proprietary blue and the Arsham Studio colour.
Image: Toby McFarlan Pond for Tiffany & Co.
"We've applied a sort of aged patina on the boxes and, ironically, the colour of the patina is very similar to the Tiffany Blue. In fact, the patina itself is colloquially referred to as 'Tiffany Green'," says Arsham. While the facade of the box warrants a second look, mainly because the Tiffany Blue Box with its white bow is a cultural icon in its own right, the content within it is where the magic happens. And this new collaboration sees the launch of the limited-edition Tiffany x Arsham Studio Knot bracelet.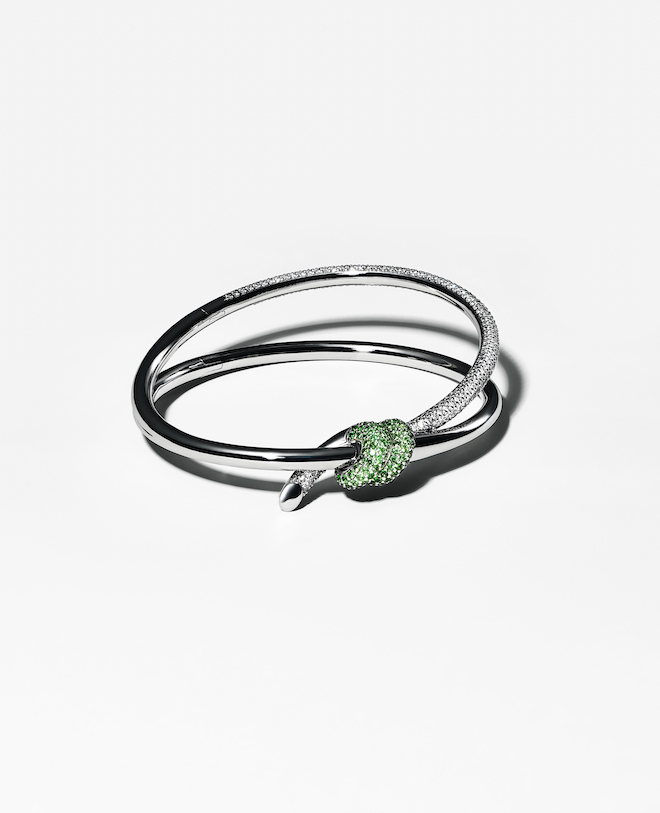 Image: Toby McFarlan Pond for Tiffany & Co.
Crafted from 18 ct white gold, the bangle is fastidiously set with diamonds and tsavorites. The latter was chosen because its green hue complements beautifully with the box and it is a Tiffany legacy gemstone that the House introduced to the world in 1974. "This limited-edition bracelet and exclusive sculpture that holds it reflect the jeweler's and Arsham's commitment to craftsmanship, discovery and innovation," says the American jeweller in its press release.
Tiffany & Co.'s recent moves, its new advertising slogan ("Not Your Mother's Tiffany"), the appointment of Beyoncé and Jay-Z as its latest ambassadors, and this new collaboration with Arsham, all translate to the brand moving into a new direction. Since its complete acquisition by LVMH earlier this year, the company is quickly rebranding itself. It's now tapping more into cultural movements to remain relevant and forward-thinking.