This Summer's Best Cocktails
When the temperature rises, you're usually most concerned about staying cool. Sure, air conditioning and a swim in the pool can help, but nothing beats a refreshing, fruity drink to cool the jets. Consider the following scenario. You're overheating at your neighbor's backyard barbecue. The heat is pounding down, the cooler is empty, and you're thirsty.
Here comes the ideal summer drink. The finest summer cocktails are energizers, and everyone deserves a wonderful drink to unwind with at the end of a hard day. These zesty drinks promise to chill you off in a fast, thanks to stellar ingredients like mint, lime, and even simple crushed ice.
Sit tight if you think you're too cool for classic fruity drinks. We understand. Perhaps you believe that summer drinks are all about fruit and no fire. You would, however, be greatly misinformed. Sure, you'll always have access to delectable Pina Coladas and Margaritas. However, the greatest cocktail menus also include refreshing Mint Juleps and spicy Rocky Cucumbers. After all, even the hottest summer gatherings require a little spicing up, don't you think?
With selections for total novices as well as seasoned mixologists, you're sure to discover the perfect drink to boost your next event. Here's a selection of the top summer cocktails to try right now to get you started!
Mojito
A refreshing mojito with a dash of lime and a touch of mint is guaranteed to tickle the mark when the sun comes out. This zingy rum-based beverage from Cuba is a favorite among guests. The mojito is one of the world's most popular cocktails, and it looks beautiful when served in a tall glass. This drink is kept from being overly bitter by a hefty amount of seltzer and a tablespoon of sugar. If you want something more sweeter, add some fresh orange juice to the mix.
Ingredients
1.25 oz — Captain Morgan Original spiced rum
12 — mint
1 tbsp — sugar
0.5 oz — lime juice
2 oz — soda
Directions
Place mint leaves at bottom of the glass. Add crushed ice, Captain Morgan Original Spiced Rum, sugar, lime juice and muddle. Add soda water and garnish with mint leaves.
Aperol Spritz
This colorful and inviting effervescent beverage is perfect for summer garden gatherings. Simply mix Aperol, Prosecco, and soda to make this cocktail. Serve with a huge slice of orange to round off your Spritz. Aperol adds a splash of color to this cocktail, making it appear as good as it tastes.
Ingredients
3 oz — Prosecco
2 oz — Aperol
1 oz — soda water
Directions
Add all ingredients into a wine glass with ice and stir. Garnish with an orange wheel.
Pina Colada
Whether or whether you are caught in the rain, a Pina Colada is the perfect summer cocktail. This is the perfect drink to enjoy by the pool because it is both simple and refreshing. A Pina Colada is a tropical drink made with rum, coconut milk, and pineapple chunks. After you've combined all of the ingredients, blend with ice until smooth. Freeze the pineapple before mixing for a creamier version of this summer favourite. Then, pour in a tall glass with pineapple or cherries on top and enjoy!
Ingredients
3 oz — light rum
3 tbsp — coconut cream
3 tbsp crushed — pineapples
Directions
Put all ingredients into an electric blender with 2 cups of crushed ice. Blend at a high speed for a short length of time. Strain into a collins glass and serve with a straw.
Mai Tai
A Mai Tai will elevate your next summer barbecue. Not only does this cocktail look like bliss in a glass, but it will transport you back to 1940s Tiki culture. This unique summer drink is made with Jamaican rum, simple syrup, orange juice, and lime juice. For a colorful touch, garnish with mint leaves and a slice of pineapple.
Ingredients
1 oz — light rum
1/2 oz — creme de almond
1/2 oz — triple sec
1/2 oz — Myer's dark rum sweet and sour mix pineapple juice
Directions
Pour light rum, creme de almond and triple sec, in order, into a collins glass. Almost fill with equal parts of sweet and sour mix and pineapple juice. Add dark rum, a large straw, and serve unstirred.
Peach Bellini
Nothing says bottomless brunches and beach stroll like a Peach Bellini. This classic Italian drink is created with just two ingredients: prosecco and peach puree. This summer drink is simple, beautiful, and oh-so-delicious, promising to transport you to the Italian seaside.
Ingredients
1 medium ripe peach, peeled and pureed
4 – 6 oz – Champagne
Directions
Pour peach puree into a glass and slowly add champagne. Stir gently. Garnish with a peach slice.
Strawberry Daiquiri
There's a reason why the Strawberry Daiquiri is considered a classic summer cocktail. Despite the fact that it contains fresh strawberries, silky rum, cane sugar, and a splash of lime, this cocktail is pleasantly sweet. To fight the heat, add frozen strawberries and mix until smooth! Citrus fruits are not only tasty and refreshing, but they are also excellent for you! Not to mention the lovely garnishes you can make with citrus fruits like lemons, limes, and oranges. They include a lot of vitamins, fiber, and plant components. Citrus fruits, according to Healthline, provide a variety of health advantages, including anti-inflammatory and antioxidant properties. Imagine getting a whole day's worth of vitamin C from only one medium-sized orange!
Ingredients
1/2 oz — strawberry schnapps
1 oz — light rum
1 oz — lime juice
1 tsp — powdered sugar
1 oz — strawberries
Directions
Add ingredients with a bit of ice in a blender. Blend and then strain into a cocktail glass. Garnish with a strawberry.
Tequila Sunrise
Tequila Sunrise, as the name suggests, is one of the most gorgeous summer drinks in the world. Because the orange and grenadine mixture overpowers the tequila base, this drink is great for folks who like less alcoholic beverages. This visually appealing cocktail is surprisingly simple to create, as the grenadine falls to the bottom of the glass when all ingredients are combined. Pour the tequila and orange juice into a tall glass, top with the grenadine, and wait for the magic to unfold.
Ingredients
2 oz — tequila orange juice
2 dashes — grenadine syrup
Directions
Pour tequila into a highball glass with ice, and top with orange juice. Stir. Add grenadine by tilting the glass and pouring grenadine down side by flipping the bottle vertically very quickly. The grenadine should go straight to the bottom and then rise up slowly through the drink. Garnish stirrer, straw and cherry-orange.
Mint Julep
This bourbon-based, minty drink was invented in the southern United States and has since become synonymous with summers in the South. This cocktail is made with bourbon, mint, sugar, and crushed ice. So, if you're short on time and need to whip up a quick refresher, this is a wonderful option.
Ingredients
4 fresh — mint
2 1/2 oz -—bourbon whiskey
1 tsp — powdered sugar
2 tsp — water
Directions
Muddle mint leaves, powdered sugar, and water in a collins glass. Fill the glass with shaved or crushed ice and add bourbon. Top with more ice and garnish with a mint sprig. Serve with a straw.
Sangria
A pitcher of traditional, blood-red sangria is sure to start the celebration. On a hot summer day, this simple mix of wine and fruit is an excellent thirst quencher. While crisp and light, a standard Sangria's hearty portion of red wine or hard liquor packs a punch. Fill your pitcher with cut oranges and apples to snack on afterwards to make this drink even more appealing.
Ingredients
1 bottle — red wine
1/2 cup — sugar
1 cup — orange juice
1 cup — lemon juice, cloves and cinnamon
Directions
Mix all together and put in the refrigerator till cold. Add cloves and cinnamon sticks to taste.
Paloma
Don't be deceived by the cocktail's gentle appearance; it's more stronger than it appears. The Paloma gets its pale hue and trademark zesty flavor from grapefruit and lime juices. The tequila Blanco, on the other hand, is what gets the celebration started. You won't be able to stop at just one cocktail with a dash of agave syrup added for sweetness and depth.
Ingredients
2 oz — tequila
6 oz — club soda
1 splash — lime juice
1 pinch — salt
Directions
Pour the tequila into a salt-rimmed collins glass filled with ice cubes. Fill with club soda. Splash lime juice on top, and serve.
Singapore Sling
If you're eager to try a new cocktail recipe this summer, the Singapore Sling is for you. This cocktail, considered one of Asia's most renowned, mixes gin, cherry liqueur, pineapple juice, bitters, club soda, and grenadine. This summer drink is the ideal remedy to humid weather and is almost as nice as a visit to the magnificent Lion City itself.
Ingredients
2 oz — gin
1 oz — cherry brandy
1 oz — lime juice
1/4 tsp — benedictine herbal liqueur
1/4 tsp — brandy
Directions
Combine gin, cherry brandy and lime juice in a cocktail shaker together with half-filled ice cubes. Shake well. Strain into a collins glass almost filled with ice cubes. Drop the benedictine and brandy into the centre of the drink and serve.
Strawberry Margarita
The popular Margarita comes in a variety of flavors, but the Strawberry Margarita is synonymous with summer. This well-balanced drink is made with basil, crushed strawberries, lime juice, syrup, and tequila. Simply combine your ingredients in a blender with lots of ice, mix, and enjoy in the sun. Make careful to salt the rim of your glass before serving. According to National Institute of Health research, not only does the salty rim offer dimension to whatever dish you may be eating, but a margarita isn't a margarita without that famed finishing touch!
Ingredients
2 oz — tequila orange juice
2 dashes — grenadine syrup
Directions
Pour tequila into a highball glass with ice, and top with orange juice. Stir. Add grenadine by tilting the glass and pouring grenadine down side by flipping the bottle vertically very quickly. The grenadine should go straight to the bottom and then rise up slowly through the drink. Garnish stirrer, straw and cherry-orange.
Rocky Cucumber
A Rocky Cucumber will put a spring in your step. This drink is one of the most adventurous summer drinks on a standard menu due to the mix of vodka, cucumber, and spicy sauce. Although this spicy cocktail isn't for everyone, the kick from a Rocky Cucumber is sure to liven up any night out.
Ingredients
2 oz — Vodka
1 oz — Lime Juice, freshly squeezed
3/4 oz — Simple Syrup
4 Cucumber slices
3 Dashes — Hot Pepper Sauce
1 — Cucumber (Garnish)
Directions
Muddle 3 slices of cucumber with the vodka, lime juice, simple syrup, and 3 dashes of hot sauce, in a cocktail shaker. Add ice and shake well. Strain into an old-fashioned glass filled with fresh ice and top with club soda. Garnish with a cucumber slice and add an extra dash of hot sauce. Note: Take it easy with the hot sauce. One dash too many can easily throw off the balance and burn the drink to the point where it's undrinkable.
Cape Codder
Do you want to plan your next summer happy hour? Consider the Cape Codder. This cocktail is great for folks who drink frequently because it is simple and straightforward to make at home. The Cape Codder, made with cranberry juice, vodka, and a dash of club soda for effervescence, is a low-maintenance option for busy people.
Ingredients
1 1/2 oz — vodka
3 oz — cranberry juice
1 — lime
Directions
Pour Vodka and Cranberry Juice into a highball glass over ice. Stir well, add a wedge of lime, and serve.
Cosmopolitan
A list of the top summer drinks would be incomplete without mentioning the classic Cosmopolitan. It's no surprise that this cocktail is a garden party favorite because it's distinctively fruity, punchy, and gorgeous. Shake together vodka, Triple Sec, cranberry juice, and half a lime to make a Cosmo. Then strain into a martini glass or champagne flute to finish. Garnish your glass with a lime slice and a sugared rim for a touch of class.
Ingredients
1 oz — vodka
1/2 oz — triple sec
1/2 oz — Rose's lime juice
1/2 oz — cranberry juice
Directions
Shake vodka, triple sec, lime and cranberry juice vigorously in a shaker with ice. Strain into a martini glass, garnish with a lime wedge on the rim and serve.
Strawberry Gin Fizz
A typical Gin and Tonic is transformed into a delicious summer beverage with the addition of crushed strawberries and prosecco. The gin serves as a firm foundation, while the prosecco gives a burst of effervescence to keep the cocktail light. Both alcoholic beverages blend effortlessly with the freshness of the fruit to create an extremely palatable cocktail that you'll want to make again and again.
Ingredients
2 oz — gin juice of
1/2 — lemon
1 tsp — powdered sugar with carbonated water or soda
Directions
Shake gin, juice of lemon, and powdered sugar with ice and strain into a highball glass over two ice cubes. Fill with carbonated water, stir, and serve.
Blackberry Wine Slushy
Because it's berry season in the summer, why not celebrate with a Blackberry Wine Slushy? This luscious drink, made with fresh blackberries, vodka, orange juice, and wine, is sure to chill you off quickly. To make this delightful treat, combine all of the ingredients in a blender, blitz, and serve. Consider using frozen berries instead of fresh berries for a thicker consistency.
Ingredients
4 oz — Red Wine
1 1/2 oz — Vodka
5 — Blackberries
1 oz — Orange Juice, freshly squeezed
1 tsp — Agave Nectar
2 — Blackberries (Garnish)
Directions
Add all the ingredients with about 1 1/2 cups of ice into a blender and blend until smooth. Pour into a stemless wine glass. Garnish with 2 blackberries.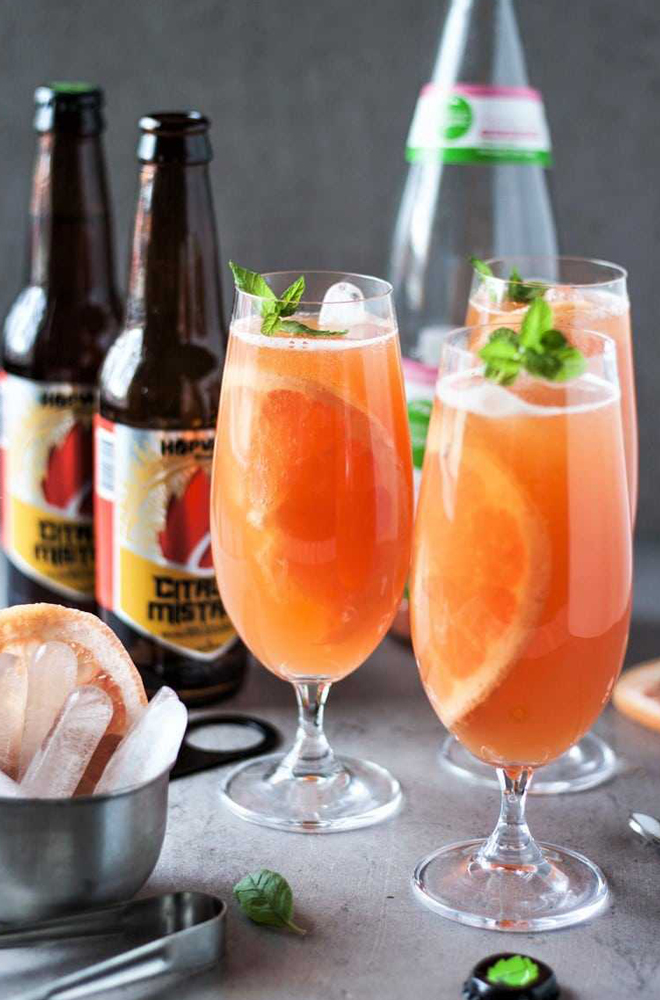 Grapefruit Shandy
In the summer sun, drinking an ice-cold shandy is as near to heaven as we humans can get. Although conventional shandies are excellent, including grapefruit into the mix will keep things interesting. To begin, make your grapefruit fizz using fresh juice and sparkling water. Then finish with your favorite wheat beer. This summer drink is tart, acidic, and delicious.
Ingredients
1 1/2 oz — Grapefruit Juice
6 oz — Beer
1 1/2 oz — Simple Syrup
3 oz — Water
1 — Grapefruit (Garnish)
Directions
Pour water, simple syrup, and grapefruit juice into a cocktail shaker filled with ice and shake well. Strain that grapefruit mix into a beer glass, filling it half-way, and top it with beer. Complete it by garnishing with a grapefruit slice.
Long Island Iced Tea
The Long Island Iced Tea is a cult classic that will take you off guard. Despite the fact that it contains plenty of white liquor and Triple Sec, you'll find yourself drinking glass after glass of this stuff since you won't taste the alcohol. Aside from its magnificent and refreshing flavor, the Long Island Iced Tea is a sentimental drink that will transport you to summer college parties. Those were the good old days.
Ingredients
1 part — vodka
1 part — tequila
1 part — rum
1 part — gin
1 part — Triple Sec
1 1/2 parts — sweet and sour mix
1 splash — Coca-Cola
Directions
Mix ingredients together over ice in a glass. Pour into a shaker and give one brisk shake. Pour back into the glass and make sure there is a touch of fizz at the top. Garnish with lemon.