The Top Sights To See At Art Basel Miami 2021
Image: Harry Nuriev
After a hiatus due to the pandemic, Art Basel Miami is back. Much has changed in the art landscape over the years, with the meteoric rise of NFTs and digital art. To reflect that, there will be a few hybrid exhibitions that explore the amalgamation of digital and fine art. This year's edition features many highlights such as Louis Vuitton's "Objects Nomade" collection, Rimowa's "As Seen By", and many more. These are the top sights to see at Art Basel Miami 2021.
Louis Vuitton "Objects Nomades" Events
Image: Louis Vuitton
Louis Vuitton debuted the "Objects Nomade" collection in 2012 as a collectable series featuring designers from all over the world. This year, Louis Vuitton is joined by the Campana Brothers, Marcel Wonders Studio, Raw Edges, and Zanellato/Bortotto for this year's event. The luxury label is also partnering with Spanish architect and designer, Patrick Urquiola on a special installation that will be on display in the city's design district. The event will be held on December 1, Miami Design District.
Rimowa "As Seen By" Exhibition
Image: Rimowa
Rimowa invited a few international artists to reinterpret the brand's signature aluminium metal into unique sculptures. In conjunction with its art collective, The Community, the exhibition includes many renowned artists including Atelier Sohn, Irina Loteravich, and Quentin Vuong. The exhibition will be held at Art Basel Miami Beach Convention Center from November 30 to December 5.
Tezos NFT Exhibition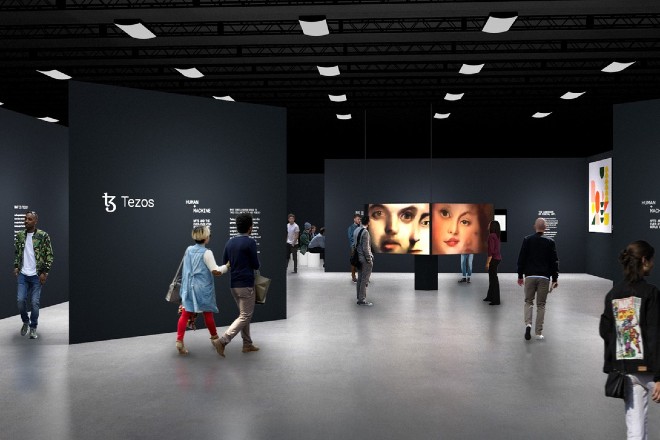 Image: Tezos
Tezos will be debuting a new exhibition at Art Basel Miami titled, "Humans + Machines: NFTs and the Ever-Evolving World of Art". It is created by Mario Klingemann, and it invites audiences to create and mint their own self-portrait NFT on-site. The blockchain platform will also play host to several artworks from other international artists such as Joanie Lemercier and Qubibi. It will also hold a series of panels discussing the growing development of NFTs in the art world. The exhibition will be held at the Art Basel Miami Beach Convention Centre.
In Bed With Harry Nuriev
Image: Harry Nuriev
Harry Nuriev is setting up an immersive installation featuring a silver mattress situated within a cubic lightbox that emulates the sunrise and sunset with a moving LED ceiling display. With this installation, Nuriev reflects on how the bed is the first and last place we ponder our thoughts in our daily lives. This exhibition will be on display at the Art Basel Miami Beach Convention Centre from December 1 to 5.
Pace Art Basel Miami Beach
Image: Pace Gallery
Pace Gallery recently launched its own NFT platform called Pace Verso and looks to double down on digital technologies such as sound, video and software-based artwork through Art Basel Miami. Featured artists include Leo Villareal and DRIFT — who had worked with the gallery on an NFT. Pace will also have a tasteful curation of traditional art, which includes works by Beatriz Milhazes, Maya Lin, Jules de Balicourt, and Wilfredo Lam. The exhibition will be held at Art Basel Miami Beach Convention Centre from November 30 to December 4.
Also happening in Miami just in time for Art Basel, Dom Pérignon is launching a Yacht Concierge. The Dom Pérignon yacht will set sail along Biscayne Bay from December 1 to December 4 and will be providing you with luxurious champagnes right to your waterfront residence or boat. There are three packages and each one comes with glassware, a Dom Pérignon ice bucket, and cases of champagne. The champagne kit is even delivered with white gloves and an option to view drone footage of the delivery.