The Opening Of Louis Vuitton's New Menswear Store Bids Farewell To Virgil Abloh
Virgil Abloh, the artistic director of menswear at Louis Vuitton, died a week ago after a private battle with cancer. Last Tuesday, the fashion icon was set to present his spin-off Spring Summer 2022 collection at the Miami Art Basel (November 30). The show was meant to commemorate the opening of Louis Vuitton's new menswear store in Miami's Design District. Instead, the runway show became a tribute to Virgil Abloh's creative vision.
More than 1,500 guests attended, including Kanye West, Kim Kardashian, Rihanna, A$AP Rocky, and Bella Hadid, among others. The Arnaults also made an appearance around 6 p.m., just as the show was about to begin. The show's attendees took a 30-minute boat ride to their destination — Miami Marine Stadium. To officially kick off the evening's event, CEO Michael Burke delivered a brief and emotional speech in which he recalled his memories of Abloh.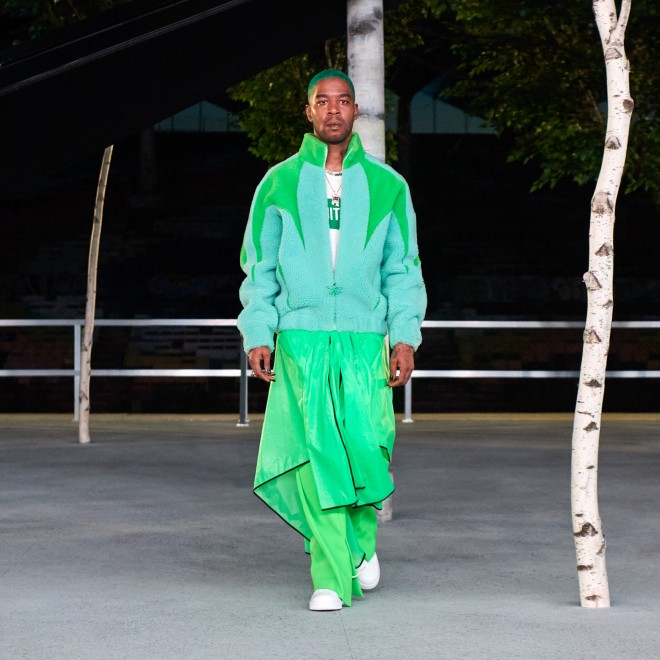 Image: Louis Vuitton
The show's first look was an all-black ensemble consisting of a belted suit vest in technical wool overworn with a single-breasted jacket with pin-hook details. The model was also dressed in a top hat, LVM ice-hockey gloves, and Tatic sneakers. The mix of different elements clearly demonstrated Abloh's vision of blurring the lines between formal and streetwear styles. This spin-off was essentially a rehash of Virgil Abloh's Spring Summer 2022 collection, which debuted earlier in June.
In addition to the original designs, the designer added ten new looks, which were worn by celebrities such as Kid Cudi, Quavo, and Offset. Kid Cudi even took to Twitter to share his final conversation with Abloh, in which the rapper asked him what color he should dye his hair to match his outfit for the runway at this very show. He also wrote: "Our last text was Saturday morning. Im glad I got to tell u how I felt about u. Im happy u didnt leave here not knowing. I love you Virg FOREVER"
Image: Louis Vuitton
The belted suit vest was followed by a tracksuit top layered with an oversized suit jacket, further contrasting formal and streetwear. There was even a model walking down the runway with a skateboard. The Louis Vuitton monogram was emblazoned on hooded parkas and wide slit-hem slacks as the show progressed. The show was then brought to a close with an emotional farewell to the designer.
Louis Vuitton CEO and chairman Michael Burke in a statement posted to Instagram: "It is with profound sorrow that I learned of the passing of Virgil Abloh. Virgil was not only a friend, great collaborator, creative genius, visionary and disruptor, but also one of the best cultural communicators of our times. He paved the way for future generations. As a devoted supporter of his community through his charities and passions, he was an eternal optimist who believed anything was possible."
Members of the LV design team gathered to mourn Abloh's death as a soundbite from the designer reverberated through the Miami port sky, ending with fireworks.
"There's no limit. Life is so short that you can't waste even a day subscribing to what someone thinks you can do, versus knowing what you can do."
Mercedes-Benz also unveiled Project Maybach, its final collaboration with the late fashion icon, with the blessing of his family, at Art Basel Miami. It is a zero-emission solar-powered electric vehicle. It is nearly six metres long, has an otherworldly spaceship-like appearance, and is entirely made of tan leather. For one of his final collaborations, Abloh brought his creative vision to Baccarat to create a new collection called "Crystal Clear." The set includes a chandelier, four vases, and a signature glass with a lid and straw. Each piece is also numbered and embellished with chain-link accents.