The Intersection Of Fashion And Function
Image: MICA
When the first calculator watch was introduced in the mid 1970s, it brought two disparate worlds together. Wearable technology has only grown since then, entering not only the accessories sector but also clothing and footwear. Luxury brands are reconsidering their approach to tech-based fashion, and today's digital adoption and consumer readiness are propelling the wearables industry to a 6.5 billion USD market by 2027. Luxury brands are making their mark in the smart tech space, from the $15,000 diamond-clad DeGrisogono rendition of the Samsung Gear S2 Smartwatch to Louis Vuitton's in-house connected Tambour timepiece.
Gucci's most recent foray into the tech world sees them collaborating with Oura, a smart ring brand that has amassed a market of over 300,000 wearers due to its impressive tech. Gucci X Oura uses a variety of metrics, such as heart rate, body temperature, oxygen levels, and movement, to calculate three daily scores: Sleep, Activity, and Readiness. It's a full-service health consultant in the size and shape of a standard wedding band. Oura sells the same Generation 3 ring in silver on its website; the Gucci version is just in black PVD titanium with gold-tone details and the brand's logo; it's a mix of style and smart tech. Aside from appearance, the Oura Generation 3 and Gucci x Oura rings are identical, raising the question of why there is such a demand for fashionable wearable technology.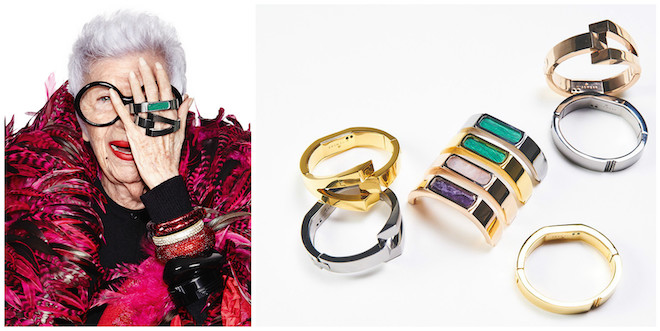 Image: Gucci x Oura
Oura believes that what one wears influences how one feels. The Oura technology is not new, but with Gucci's style, it has become a more appealing wearable device. This combines fashion and function. "Oura has always held a firm belief that wearables can be both innovative and stylish," Oura's Chief Operations Officer Michael Chapp said. With this collaboration, we hope to improve our design and reach a wider audience."
The Intersection Of Fashion And Function
Image: Montblanc
The fashion industry has always been interested in the practicalities and possibilities of new ideas, so it's not surprising that new wearable tech trends are being explored. The constant blurring of boundaries between design and smart technology is ever-present, from dystopian-inspired innovations to tech and fashion brand collaborations.
Image: TAG Heuer
This marriage of design and functionality is common in watch brands. The latest Connected Calibre E4 watch from TAG Heuer combines elegance and craftsmanship with new high-tech features that focus on an immersive sports experience. Thanks to the watch's built-in GPS and heart-rate monitor, it works with the TAG Heuere Sport app and provides detailed tracking for golf, running, cycling, walking, and fitness sessions. The TAG Heuer Connected watch was created with the same enthusiasm and attention to detail as our mechanical watches.
The Connected watch is more than just a beautiful timepiece; it's also a truly immersive experience, as it now sits within a complete TAG Heuer digital ecosystem focused on performance and sports. It expresses the brand in a completely new way and offers limitless possibilities for future innovation, ushering TAG Heuer into a new era." Frédéric Arnault, TAG Heuer's Chief Strategy and Digital Officer, says so. The watch combines smart features with the elegance of a chronograph-inspired timepiece crafted in the purest watchmaking tradition, with a 45-mm case in materials such as stainless-steel titanium, ceramic or sapphire crystal, subtle polishes, and interchangeable strap options.
Image: Hublot
Hublot also dabbled in wearable technology with their luxury smartwatch, the Big Bang E Titanium 42, which incorporates connected technology into one of the most recognizable watch designs of the twenty-first century. The Big Bang E expands on that platform and is part of LVMH's larger push into high-end smartwatches; it's seen as the new embodiment of the brand's Art of Fusion ethos: a fusion of tradition and innovation, cutting-edge materials and cutting-edge digital technology. The Big Bang E Titanium is made up of 42 components and is powered by Google's Wear OS, which is the most recent technological advancement in wearable technology.
The wearer can access Google Play apps, get answers on the go with Google Assistant, and make quick and easy payments with Google Pay. It includes exclusive interpretations of traditional watch complications, such as the Perpetual Calendar with an impeccably precise moon phase or a second GMT time zone, that have been enhanced to take advantage of the digital world's possibilities. As a result, a more traditional wristwatch wearing experience is created while incorporating the expressive nature of wearable technology.
According to Michael Leming, Nike's Chief Talent Scout, "With aesthetics being as important as devices these days, tech execs are hiring fashion powerhouses in the hopes that their new partners will bring their taste with them." Leaders must be more versatile than ever before: they must be able to respond to a customer base that wants both technology and fashion in one package."
Image: Apple
The mindset of fusing technology and fashion is not uncommon. With the release of the original Apple Watch in 2015, it was revealed that Apple had collaborated with luxury goods manufacturer Hermés. Fitbit and Pebble were the dominant players in the smartwatch industry at the time, but with the release of the Apple Watch and the iconic collaboration, the two experts offered consumers the best of technological and traditional craftsmanship. The goal was to design a product that would appeal to both tech and high-fashion consumers. As a result, wearing the watch meant more than just being a tech enthusiast; it also became a powerful fashion statement.
One thing is certain: there is a lot to look forward to in terms of wearable technology. Whatever the fashion-tech collaboration, bringing the product to market has a simple theme: design for the user. Customers want to be both fashionable and technologically savvy.