The Gucci Osteria da Massimo Bottura Restaurant Is Set To Open On March 28
Image: Gucci
The fourth Gucci Osteria da Massimo Bottura restaurant is located on the top floor of the new Gucci Gaok (Gucci Traditional Home) flagship store in vibrant Itaewon. Gucci Osteria Seoul will open on March 28th and will serve lunch, dinner, and aperitivo. The establishment's opening is just in time for Spring travels as more VTLs open up in a neighborhood known for its bustling cosmopolitan dining and nightlife. The renowned fine-dining experience, led by chef Massimo Bottura, an avant-garde master of Italian gastronomy, debuted at the Gucci Garden in Florence, Italy, in 2018 and was awarded a Michelin star. Outposts have since been established in Beverly Hills, California in 2020 and Ginza, Tokyo last year.
For Gucci's centennial anniversary, the Seoul flagship opened in May. Each restaurant's menus are tailored to the local culinary scene, and the Itaewon restaurant, as expected, will feature Korean reinterpretations and dishes that appeal to the Korean palate. Signature Gucci Osteria dishes such as the Emilia Burger and Tortellini with Parmigiano Reggiano Cream will also be available. There's also a large cocktail menu and a wine list with over 200 options.
Bottura collaborated with Michelin-starred Karime Lopez, Seoul executive chef Hyungkyu Jun, and head chef Davide Cardellini to create the menu for the Korean outpost. "There is an invisible thread that runs through each of the Gucci Osteria globally," Bottura tells WWD. "It is one that entwines Italian food with the food and products of other great global cuisines." Korea, like Italy, considers food to be an integral part of its culture, and I'm looking forward to welcoming everyone to our Seoul outpost."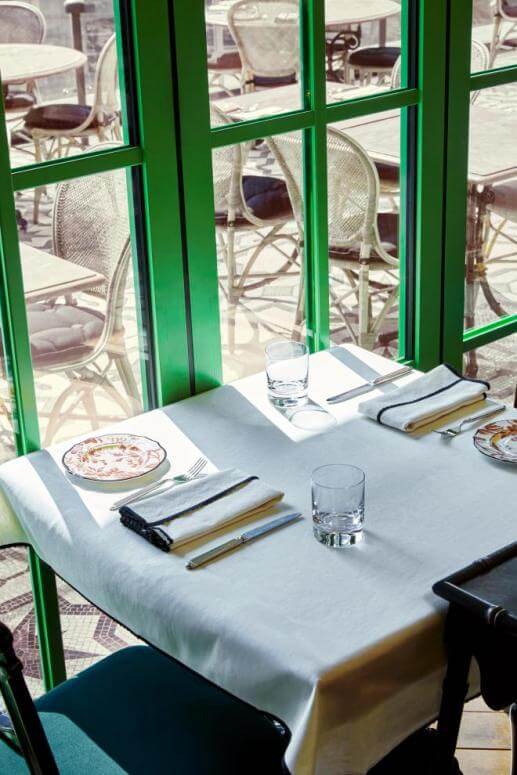 Image: Gucci
Gucci Osteria Seoul's interiors will be designed in the same way as the Florence location, with references to the Italian Renaissance and Gucci's all-encompassing aesthetics. From the Georgian-era patio to the wooden paneling in the main dining room, guests will be greeted with Gucci's signature green. The former, on the outdoor terrace, has 36 seats and a colorful marble mosaic, whereas the dining room has 28 seats and is furnished with blue velvet chairs and ebonized tables. A private dining room for up to eight guests is hidden behind stained-glass doors, complete with antique mirrors and floral wallpaper from the Gucci Décor home collection.
Image: Gucci
223 Itaewon-ro, Yongsan-gu, Seoul, South Korea is home to Gucci Osteria Seoul da Massimo Bottura. Lunch is served from 11.30 a.m. to 4 p.m., and dinner is served from 6 p.m. to 10 p.m. Visit gucciosteria.com to make a reservation.