The Fall Winter 2022 Runway Collaborations
Image: LVMH
With Gucci x Adidas and MM6 Maison Margiela x Salomon overflowing everyone's social media feeds, the Fall Winter 2022 season of shows demonstrated how internet-breaking partnerships continue to propel fashion to the forefront of popular culture. The key to every brand's success is to stay relevant to the target market and to resonate with them via culture and consumer demands.
This is especially important in today's media-saturated society, since consumer needs are shifting as a result of the worldwide pandemic. It might be the reason for the recent increase in fashion industry cooperation. It enabled the delivery of a collection that is generally outside of a brand's regular design in a refreshing and unique manner. The following are some of the most notable runway collaborations from the Fall Winter 2022 season.
Valentino x Pantone Colour Institute
Image: Valentino
Pierpaolo Piccioli concentrates on crafting an 81-look collection virtually exclusively in a single, stunning shade of hot red, unveiled over a backdrop of the same color for Valentino's Fall Winter 2022 presentation. The colour "Valentino Pink PP," created in partnership with Pantone, is so catchy and vibrant that it needs its own name. He wanted to highlight the many forms and elements of a wardrobe that could be used for everyday requirements and events. Pantone affirms, with this collaboration, that it is more focused on establishing hegemony over color schemes, generating unique colors for corporations and celebrities as a brand identity. As a result, Valentino switched from its characteristic red to pink.
Gucci x Adidas
The much-anticipated Gucci x Adidas collection combines the symbols of the Italian luxury company and the legendary sportswear brand. Alessandro Michele's affinity with the old-school athleisure brand inspired the collection, and the fusion of the two powerhouses is evident on the runway. With basic, athleisure styles synonymous with Adidas, as well as unique color play and patterns synonymous with Gucci.
MM6 Maison Margiela x Salomon
The collection features boxy suiting with powerful shoulders, seamless wool pea-coats with exaggerated peak lapels, and sculptural outerwear with an elevated industrial look. The collection's somber designs were complemented with colorful sneakers designed in partnership with Salomon, lug-sole running shoes, and MM6s heel ankle boot. The collection exemplifies transitional design by combining tailored, modern, sporty, and avant-garde designs.
Dior x D-AIR LAB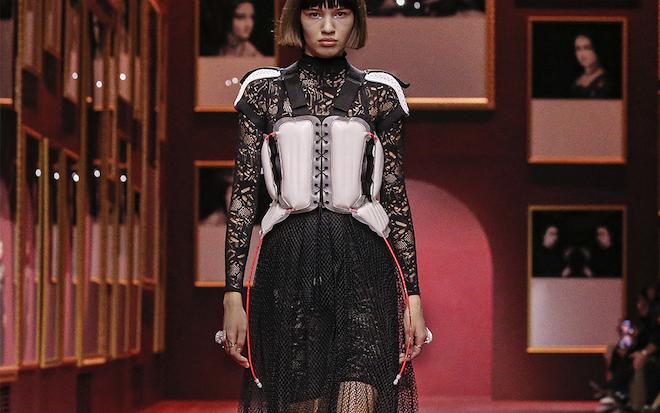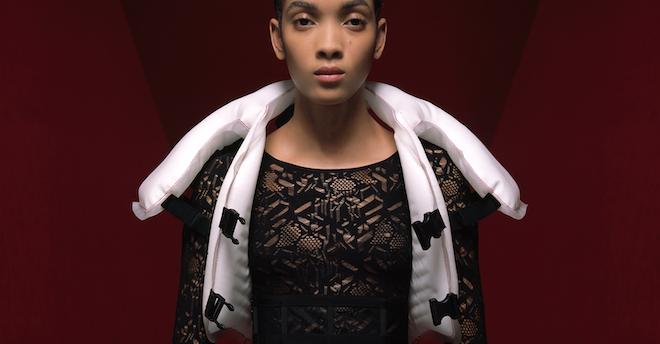 Image: Dior
Maria Grazia Chiuri, Dior's creative director, embraces the future of fashion through a cooperation with the Italian-based business Dynamic Autonomy and Intelligent Robotics Lab (D-AIR Lab). The brand is well-known for creating personal safety apparel that makes the wearer feel secure and protected in potentially dangerous situations. The outfits struck a different level of confidence for the runway, aiming to offer individuals who wear the items self-assurance. D-AIR Lab padding and materials are fused into corsetry and placed over handcrafted gowns, which is Dior's pièce de résistance when it comes to inspiring women's confidence.
Stella McCartney x Frank Stella
Image: Stella McCartney
The Fall Winter 2022 collection, dubbed STELLA BY STELLA, honored the legendary American artist Frank Stella, one of the most prominent painters and sculptors of his age. Modern basics were transformed into wearable art when they were shown at the historic Centre Pompidou. "His more linear early work lends itself so well to tailoring," Stella McCartney remarked. "I adore how he crosses minimalism and maximalism, which has such a connection with our brand." The whimsical clothes have a color palette and graphic designs that pay homage to Frank Stella's abstract artwork, as well as stripes and geometrical landscapes that pay homage to his early minimalist artworks.
Loewe x Anthea Hamilton
Loewe Fall Winter 2022, like previous seasons, promises to be a wonder-spectacle of dizzying grandeur, beautiful details, and the unexpected. The current collection from the Spanish-born fashion business is fresh from Paris Fashion Week, where artist Anthea Hamilton created a series of sculptural works to complement the catwalk. The collection, like Hamilton's massive melting pumpkin sculptures that peppered the display area, is a unique play on material utilization. Leather, wool, and organza, which should be soft and flexible, are shaped, felted, and starched. Materials that should be solid, on the other hand, become soft, resulting in surprising silhouettes.
The year 2022 has been one of nonstop partnerships. Following the buzz of 2021's collaborative frenzy — which began with Balenciaga and Gucci's "Hacker Project" and Fendi x Versace's "Fendace" — the flood of inter-brand ventures looked relentless, never-ending, and immensely intriguing. Collaborations appear to be here to stay, allowing for fresh silhouettes, unique designs, and artistic interpretations.