Rolex Oyster Perpetual Cosmograph Daytona With A New Dial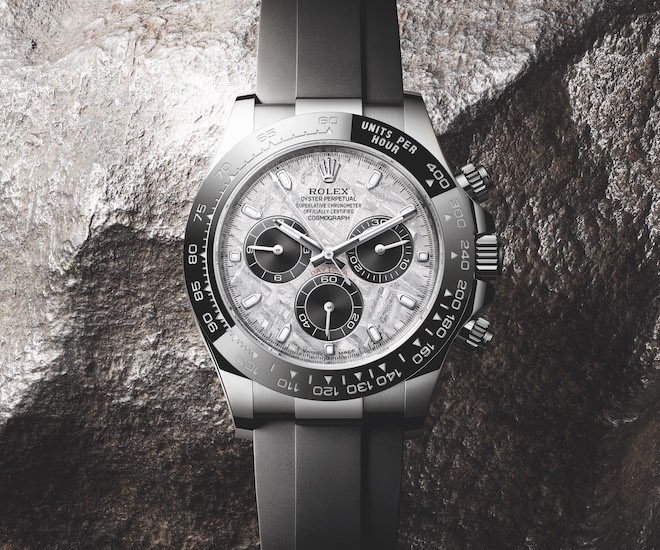 Image: Rolex
Many consider the storied Rolex Cosmograph Daytona to be first among equals, with more than half a century of history. It is a watch that never fades and continues to capture the imagination of collectors everywhere. It is possibly the most famous of sports chronographs and almost certainly the most sought after. The legend is revived this year with a new dial that puts the watch back in the spotlight. The dials of a new series in the collection will now be made of a rare material called metallic meteorite.
The watch's attention-getting meteorite and black dial are unquestionably its highlights. The raw material is literally from outer space, and it makes for a stunning dial thanks to its metallic crystalline composition, which gives it a glittering textured appearance. The substance, which is primarily made up of iron and nickel, was super-cooled as it hit the Earth's surface, giving it its distinctive appearance. Metallic meteorite dials are difficult to work with, but the effort is well worth it once the Widmanstätten patterns, or varied formations, appear on the dial. Rolex has installed black chronograph counters at the 3, 6, and 9 o'clock positions to contrast with the mesmerizing dial.
Oyster Perpetual Cosmograph Daytona. Image: Rolex
All of the models have the famous Superlative Chronometer rating, which is a combination of the COSC rating and Rolex's own certification done after the watches have been assembled. The series is available in three different versions: one in white gold with a prominent black Cerachrom bezel and a black Oysterflex strap, and the other two in yellow gold and Everose gold (with matching precious metal bezel and Oyster bracelets). Tachymetre indications can be found on all of the aforementioned bezels.
The Rolex calibre 4130, which is fitted with an in-house made blue parachrom alloy hairspring, powers the Daytona watches. It has a Rolex overcoil for consistent accuracy and is ten times more precise than a traditional hairspring.
Oyster Perpetual Cosmograph Daytona. Image: Rolex
Rolex developed and patented the Oysterflex material. A super-elastic metal blade is hidden inside the tough black elastomer strap. It is extremely durable and resistant to the effects of the environment. An Oysterlock safety clasp with Rolex's patented Easylink rapid extension system is also included with this strap. This allows for a quick increase of approximately 5mm in strap length for added comfort.