RIMOWA And Porsche Have Collaborated To Create A Special 911-Inspired Luggage
Image: RIMOWA and Porsche
Rimowa and Porsche have partnered on a limited-edition handheld case called the Rimowa x Porsche Hand-Carry Case Pepita, which will be available on April 21. The two historic German enterprises are recognized for their unwavering quest of excellence; both remain committed to their rich cultural past while focusing on functional design, technological innovation, and high performance.
Image: RIMOWA and Porsche
Emelie De Vitis, Chief Marketing Officer at Rimowa, was overjoyed to see the historic cooperation come to fruition, saying, "Our relationship highlights the outstanding excellence of German design as we both poured our wealth of experience into a one-of-a-kind piece".
"For me, the cooperation with Rimowa seemed natural for both teams right from the start, which is always a sign that our brand values coincide in a wonderful manner", said Robert Ader, Chief Marketing Officer of Porsche AG, anticipating that followers of both brands will be enthusiastic about the collaboration.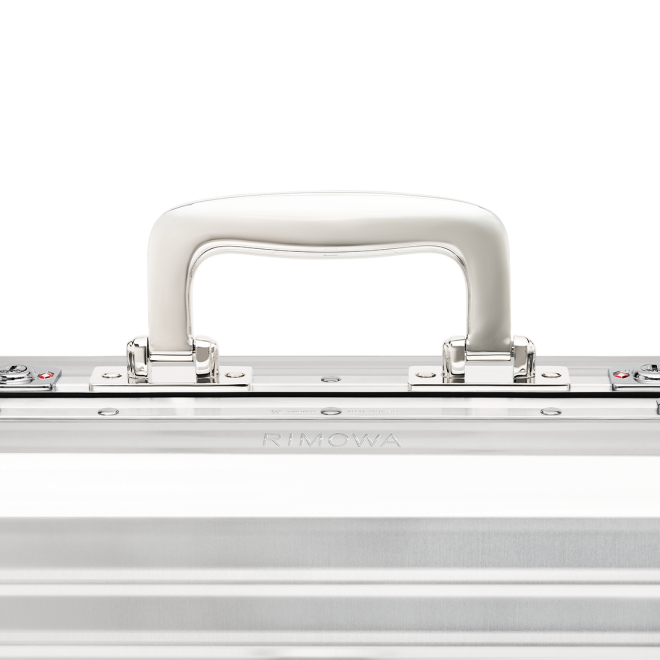 Image: RIMOWA and Porsche
The sleek casing, made in Cologne, Germany, pays homage to the brand's most recognizable design aspects. It is made of Rimowa's trademark grooved aluminum and is inspired by the first generation Porsche 911. The bag can fit neatly in the boot of a Porsche automobile thanks to its extremely functional wheel-free design, which has TSA-approved locks and a dazzling aluminum handle. The Hand-Carry Case's high-gloss highlights and embellishments are inspired by the silver mirror finish of a first-generation Porsche 911.
Black leather straps are linked to the sides by polished crest-shaped holders that resemble traditional hood straps. The genuine Porsche crest is boldly displayed on the case's front.
Image: RIMOWA and Porsche
A zippered U-pocket and an X-strap are located within the ultra-durable case to keep valuables secure while in travel. The Hand-Carry Case also incorporates Houndstooth Pepita fabric, black leather accents, an embossed Porsche crest, and a yellow instructional label similar to the engine compartment labels found in a Porsche trunk to complete the 911-inspired appearance. The German luxury labels also launched a mock spy thriller featuring the Hand-Carry Case Pepita at the launch gala on April 8.
The vintage espionage film, directed by Dimitri Basil and shot in Germany and Los Angeles, is divided into five sections. Take a look at the videos on Rimowa's YouTube channel.
The limited-edition case will be accompanied with co-branded baggage tags. A Rimowa x Porsche Pepita Sticker Set with three classic stickers will be available separately. The Rimowa x Porsche Hand-Carry Case Pepita will be available for €2,250 (US$2,468) on April 21st, with just 911 numbered pieces created. The case is available at certain Rimowa locations, Porsche's global network of dealerships, and shop.porsche.com.