Prada And Adidas Take Their Collaboration To New Heights
Image: Prada
The upcoming Prada and Adidas Forum collaboration is another step in the luxury and streetwear worlds colliding. The Adidas Forum sneakers, which will be available in all-white or all-black colorways, are the most wearable and creative pair yet released by the two. The Forum collaboration, which is co-branded, takes elements from each brand and combines them to create an extremely creative and wearable collection. The Three Stripes are cleverly applied to some of Prada's most famous silhouettes for the new collection, while the Italian fashion house's signature Re-Nylon is heavily referenced in every piece, from bags and accessories to the Forum sneakers.
Image: Prada
The Forum sneakers are the third pair of Adidas sneakers to be reimagined by Prada. In 2020, it will be followed by the Adidas Superstars, and in 2021, the Luna Rossa '21 Performance. A detachable pouch made of Re-Nylon sits on the tongue of the sneakers and features Prada's triangular logo on the front and another branded badge inside, as well as a chrome zipper that runs around the bag. The "Prada Milano" branding is in capital letters at the very top of the tongue, and two collaborators' names are found side by side inside the shoe.
Image: Prada
"From the very beginning of our partnership together, the Forum has always been a part of our conversations," explains Stefano Pierre Beruschi, head of design for Adidas collaborations in a statement.
"Not only is it one of Adidas's most iconic silhouettes, but we also jointly agreed it would be the perfect archetype to express as a centrepiece for our third collaborative project."
Image: Prada
The Re-Nylon material is being promoted as the collaboration's highlight. It is a re-engineered version of Prada's signature nylon, which has been used in the brand's products for years, and it is featured in every piece, as previously stated. Prada introduced Re-Nylon in 2019, a material made from recycled and purified plastic trash recovered from the oceans. Prada achieved its goal of switching its entire production from virgin nylon to Re-Nylon in 2021.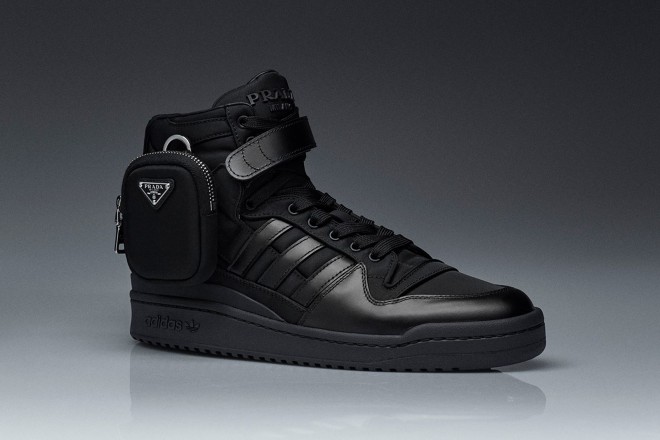 Image: Prada
A$AP Ferg is a rapper from Atlanta, Georgia. In September, Rocky teased the Prada and Adidas Forum sneakers. In a now-deleted post, he showed off the white sneakers in a few photos. A "Triple Black" colorway appeared a month later. The Forum collection will be available in Prada boutiques and online at prada.com and adidas.com/prada on January 13th.