Patek Philippe Introduces The Tiffany Blue Nautilus Dial
Image: Patek Philippe
Patek Philippe has just released a new Nautilus Ref. 5711 with the brand's signature bright blue dial. The coveted model was discontinued earlier this year in April and has been relaunched with a Tiffany & Co. makeover. The limited edition of 170 pieces is priced at $52,635. The watch represents the 170-year partnership between a New York jeweler and a Swiss watchmaker (coinciding with the number of pieces available). Tiffany & Co. in 1837 and Patek Philippe in 1839 were founded within two years of each other. They formed a partnership several years later, in 1851, that would make Tiffany & Co. the first official Patek Philippe retailer in the United States.
Image: Patek Philippe
Patek Philippe has created several limited-edition models for Tiffany & Co. to commemorate their friendship since the early 2000s, and the jeweller is the only retailer in the world to be featured on a Patek Philippe dial. The most recent version of the watch is signed by both brands and inscribed on the sapphire-crystal case back with "170th Anniversary 1851-2021 Tiffany & Co. – Patek Philippe." It also has Tiffany's parent company, LVMH, hidden inside the final digit of "2021." The self-winding calibre 26-330 SC is housed inside the case back, atop an integrated steel bracelet with hand-crafted, satin-finished, and polished links.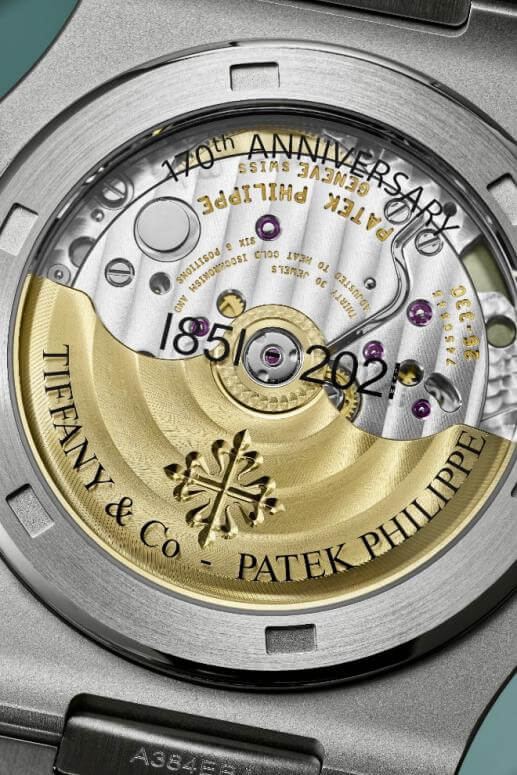 Image: Patek Philippe
The dial of this Patek Philippe x Tiffany & Co. Nautilus is unmistakable. Only Tiffany boutiques in New York, Beverly Hills, and San Francisco will be able to purchase this ultra-exclusive and coveted model of the watch. Thankfully, travel appears to be on its way back, and this may be your only chance to get your hands on a piece of the exclusive watch.