Online Sales of Patek Philippe watches Begin for Now but there is potential for Long Term eCommerce
With retail at a standstill, hard luxury sales being a traditionally experiential activity, the Covid-19 pandemic encouraged Patek Philippe to experiment with eCommerce. Beginning this month (April 2020) and working with authorised retailers, Patek Philippe is offering some of the world's most luxurious and exclusive timepieces for online sales through the platforms of authorised dealers affected by national lockdowns.
Patek Philippe has long held that fine watches should only be sold at boutiques in order to  build a relationship with its customers but the coronavirus outbreak has created an unprecedented economic disaster as global supply chains, logistics and retail got affected, leading the staunch traditional watchmaker, among the last of the independent watchmakers in an industry dominated by conglomerate held brands, has long held out that luxury watch retail should take place in an appropriate retail environment with face to face service with cultivated, long term, relationships.
Among the first to begin online sales of Patek Philippe watches is London Jewellers and Watches of Switzerland in London. High end models including the sought after Calatrava Pilot Travel Time Ref. 7234R and their new Twenty-4 will retail online. Patek Philippe was also keen to emphasise that these measures are temporary in order to help retailers counteract suppressed retail activity during the covid-19 national lockdowns. But what if the Geneva manufacture became pioneers in transacting six figure luxury timepieces online?
As Zurich went into a lockdown, Phillips cancelled its Spring auction in Geneva because of Coronavirus concerns, but Antiquorum ahead with its sale, albeit with bids accepted by telephone, via online platform and registered absentee bids. It's not the first offline auction, Christie's has been holding online auctions since 2014 with 51 exclusive online only sales; sites like ebay.com and Chrono24.com too have become hotbeds of activity for some of the world's most exclusive Patek Philippe watches including the Skymoon Tourbillon.
Patek Philippe Ref. 5131/1 World Time with Enamel Dial  Very fine and probably unique 18kt yellow gold, world time, automatic with indication of 24 timeszones, silver color and polychrome cloisonné enamel dial displaying the European, African and American continents. Sold for 150,000.00 Swiss Francs
Patek Philippe Ref. 1526 Perpetual Calendar Very fine and extremely rare 18kt yellow gold, manual-winding, perpetual calendar wristwatch made for Guillermin. Sold for 85,000.00 Swiss Francs
Patek Philippe Historical Pocket Watch Six horological complications including minute-repeater and perpetual calendar in rose gold. Sold for 57,500.00 Swiss Francs


Antiquorum's Geneva auction held March 21st, 2020 totalled 3,281,374 Swiss Francs or approximately US$3.34 million, with three of its top five lots belonging to Patek Philippe timepieces, so its certainly not out of the realm of possibility that consumers are willing to pay top dollar for Patek Philippe watches online, sight unseen, and pre-owned at that.
Potential for a Patek Philippe's own "White Glove" Service through ecommerce
There's something to be said about a warm handshake and a gentleman's agreement to honour the purchase of goods and services in a luxurious VIP setting of a Patek Philippe boutique but there are also many new, potentially excellent forms of experiential luxury in this new coronavirus economy. Louis Vuitton first launched their in-home "White Glove" delivery experience in 2006, rolling it out across 25 countries including voracious luxury consuming markets like United Kingdom, Sweden, China, and Japan; with Singapore as its latest territory, debuting only last October 2019.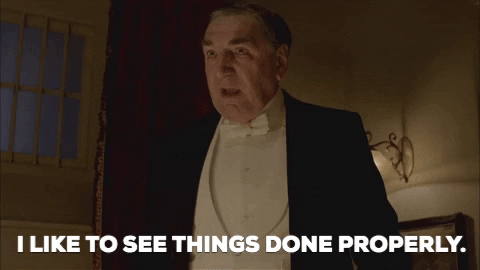 According to Louis Vuitton, a suited gentleman in bow tie, akin to one of Lord Grantham's Downton Abbey butlers or footmen, arrives at your front door at the appointed time with your heart's desire. This practice is reminiscent of the earliest practices of luxury retail when it was considered gauche and un-gentlemanly for an aristocrat to be seen "shopping" alongside hoi polloi.
Given the enormity of Patek Philippe's resources and their legacy of royal patronage, it could be conceivable that a long term ecommerce solution meeting all of Patek Philippe's preferred requirements for a healthy brand-customer relationship could be met with the selection and training of the right "white glove" service personnel and the right process flow of delivering an exquisite fine Swiss watch right to the doorstep of a favoured client.
According to Fortune.com, personal shopping services complete with white-gloved butler-style delivery are appealing to younger Chinese consumers because of its perceived exclusivity. McKinsey estimated that China's online luxury spending will more than double to US$21.354 billion by 202 and even if these projections have been affected by the severe recession as a result of the coronavirus pandemic, the e-commerce and white glove services will continue to be a fast growing segment in a world where unnecessary face to face contact is increasingly verboten.