Natural Vegan Skincare That Really Works!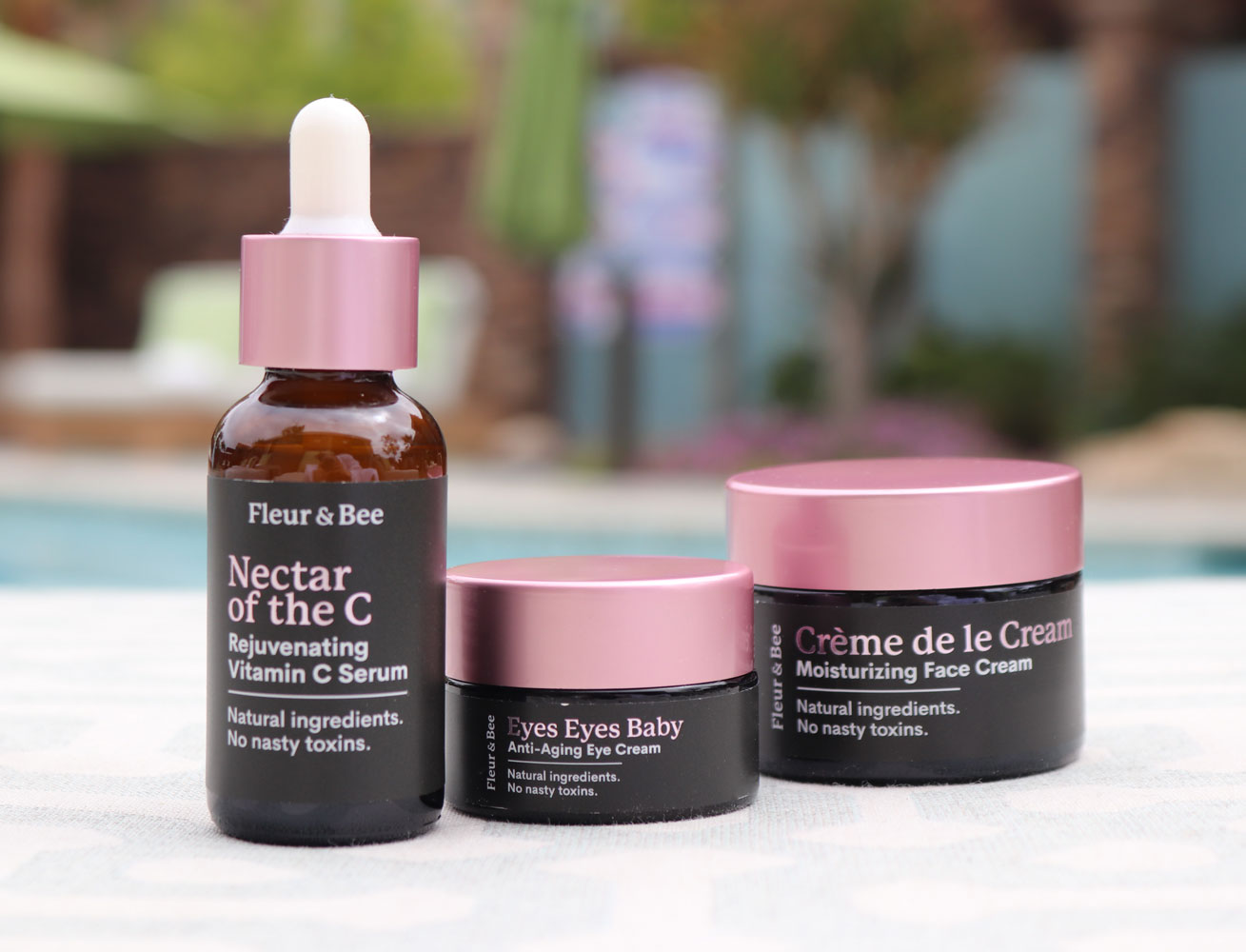 Fleur & Bee Skincare – Natural, Vegan, Cruelty Free Skincare Products that WORK!
When you find a skincare brand that is natural, vegan, cruelty free, wallet-friendly, and actually WORKS, you want to tell everyone about it! I'm excited to say I have found such a brand! Fleur & Bee sent me a few Leaping Bunny certified, cruelty free skincare products to test drive, and I have been very pleasantly surprised by how much change I've seen in my skin.
When beauty brands say "great for all skin types", I rarely find that to be true. I have combination, acneic skin and usually the products are too heavy and make me break out, or else they'll be way too light for people with dry skin. I tried three Fleur & Bee products, and I feel pretty confident saying these will actually work for all skin types (there's always an exception of course, but these will work for most of you). They are moisturizing, but the moisture comes from non-pore clogging oils like safflower and sunflower.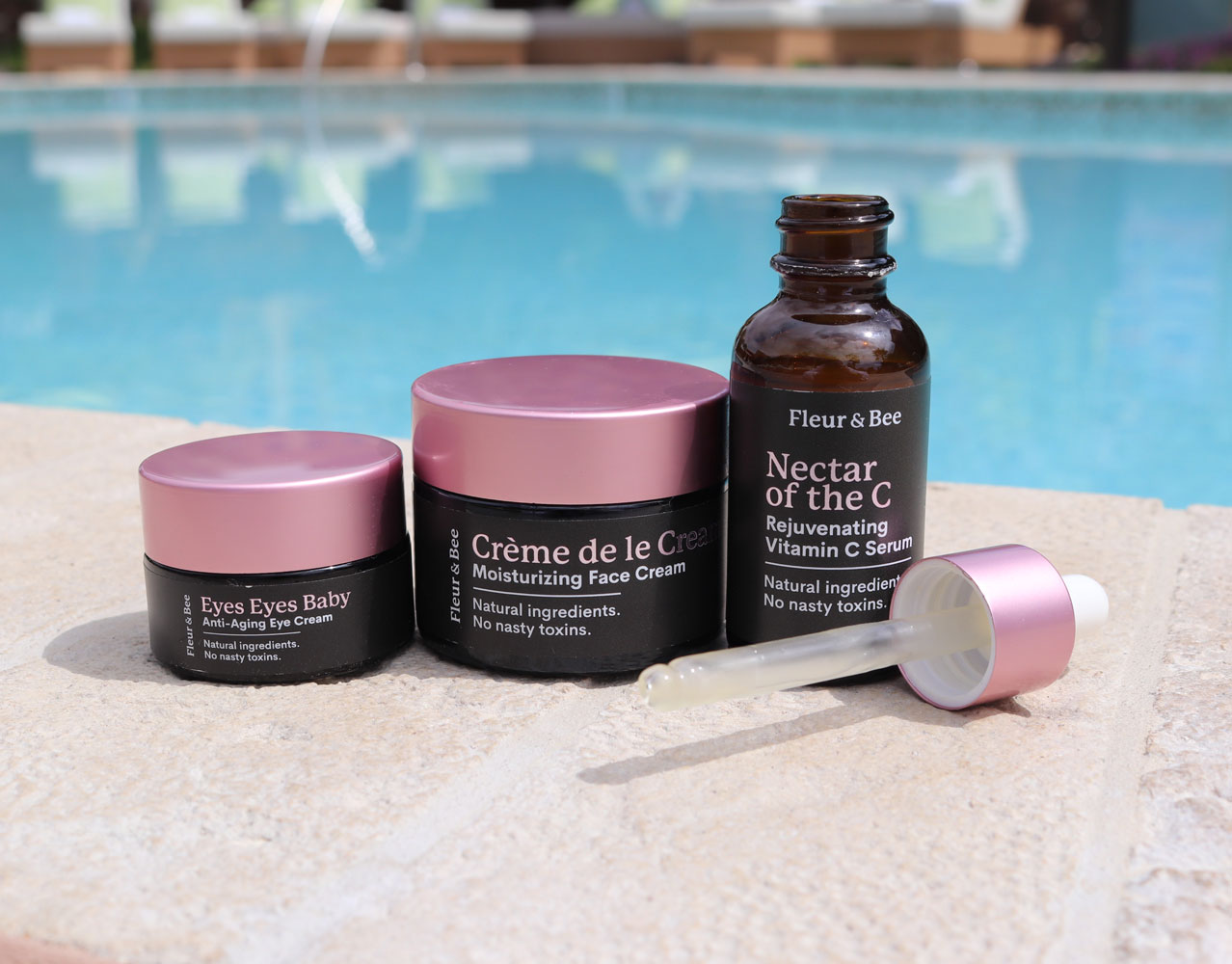 I'm also really impressed with the range of ingredients. There are ingredients that will help acne-prone skin types but NOT dry out skin (like niacinimide, geranium, and aloe). And even though the ingredient decks are super clean, there are some sweet anti-aging active ingredients that are far superior to what some of the "natural" and "green beauty" brands usually include (like peptides and CoQ10).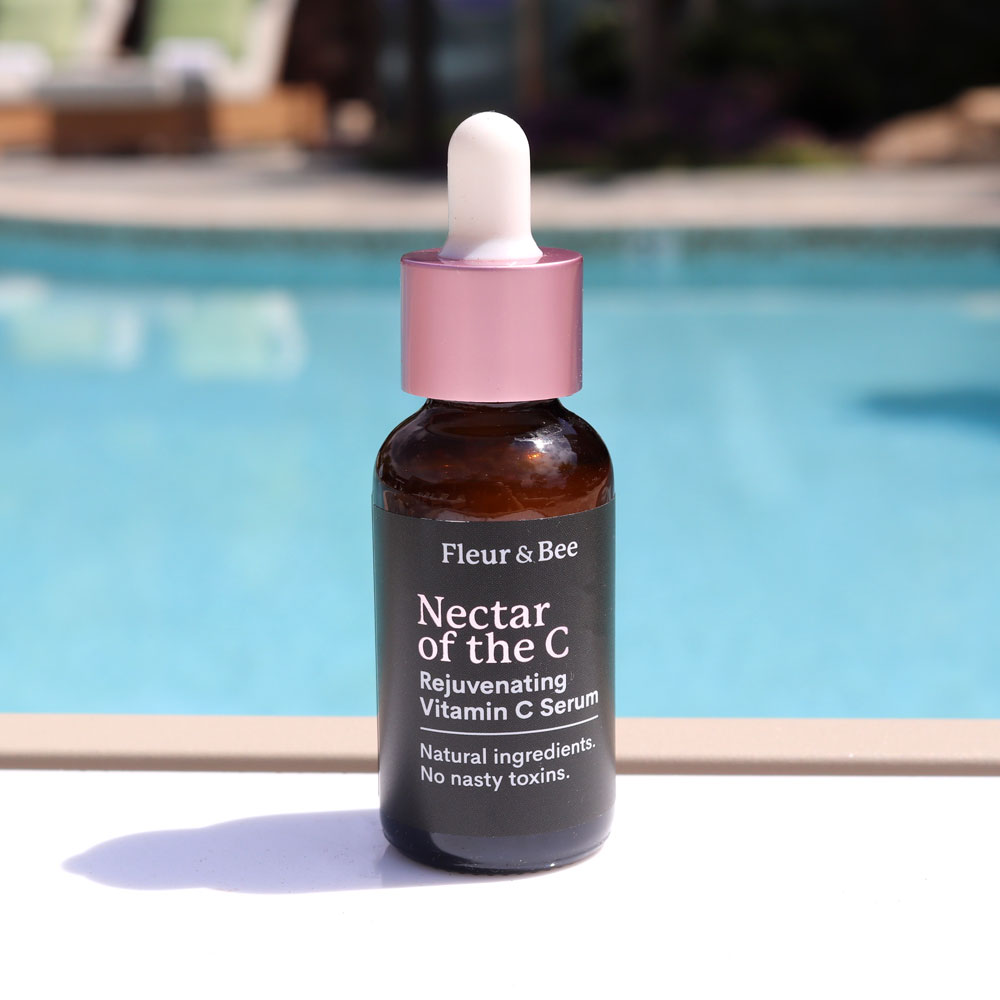 Let's talk about Nectar of the C – Fleur & Bee's Vitamin C Serum first. Those of you who follow me might be surprised to hear me raving about a Vitamin C product, because my skin is normally very allergic to Vitamin C. Well, despite the fact that I usually avoid it, I have always known what an amazing ingredient Vitamin C is. It's well known to be one of the best anti-aging ingredients – good for lightening acne scars and sun spots, promoting cellular renewal, and acting as an antioxidant to prevent premature skin sagging and wrinkles. It may sound obvious, but I'm thrilled that I finally figured out a hack so I can use this ingredient! Instead of putting it all over my face (which causes an allergic reaction when there's high Vit C content), I put it only on my acne scars, melasma spots and on areas that are developing lines. I was amazed to see that my skin tolerated it like a champ, and I can actually see the spots start to fade! I don't know why it took me so long to figure it out, but I'm a happy camper!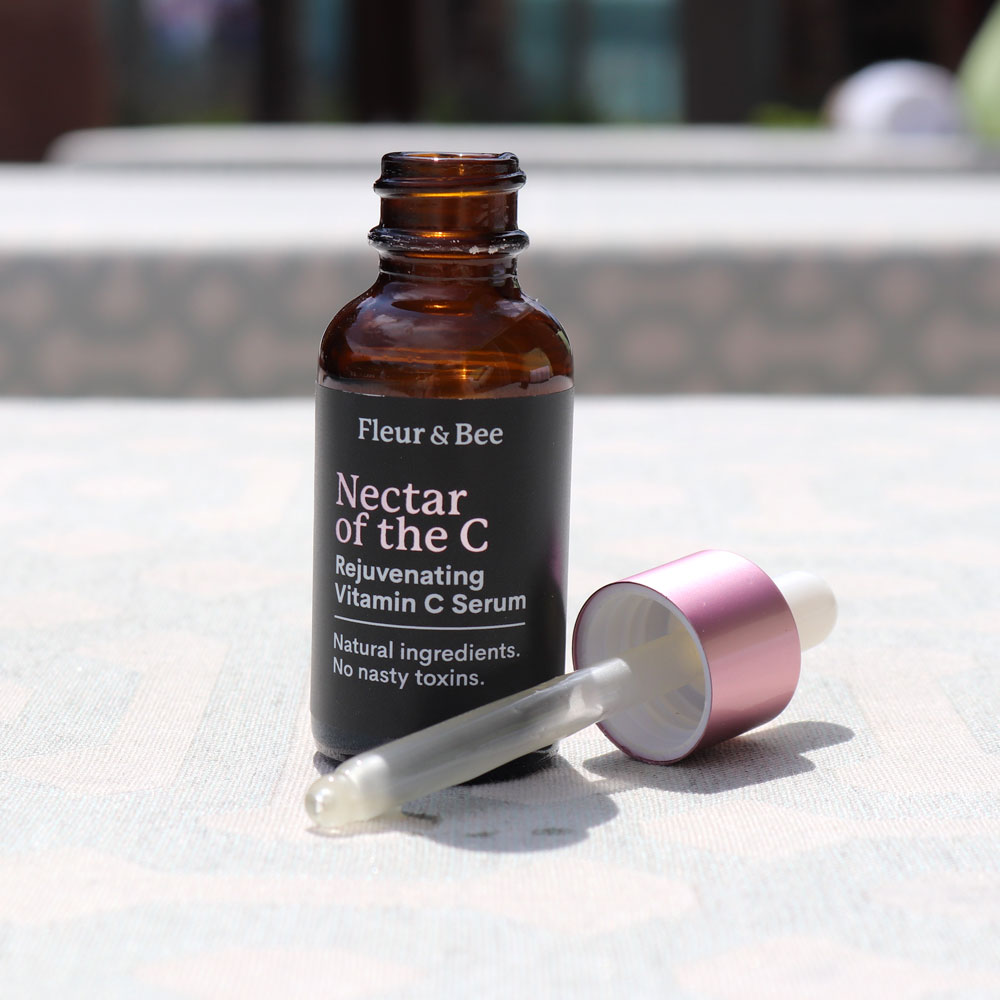 Nectar of the C is not just a run of the mill Vitamin C serum, and in fact, I think it's the combination of ingredients that has given me such amazing results in spot reduction. The Vitamin C is blended with Vitamin E and ferulic acid. These three antioxidant ingredients have a compounding effect to make them better together (awww – BFFs!). The formula also contains aloe vera, veggie glycerin, jojoba seed oil, pink grapefruit peel oil and clary sage flower oil. It's a hydrating, yet non-pore-clogging blend, and it's not super thick or oily.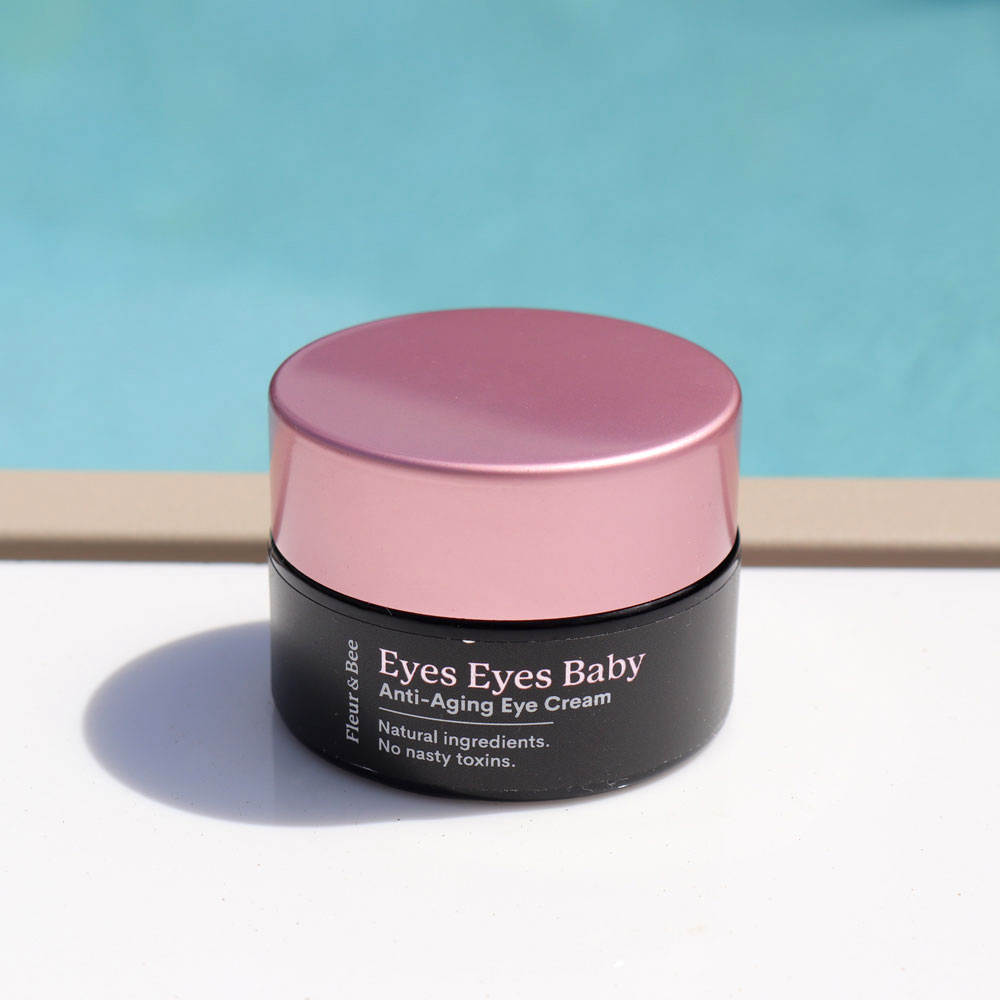 Now let's talk about the Fleur & Bee eye cream. First of all, it's called Eyes Eyes Baby – every 80s and 90s kid has to love the Vanilla Ice reference! The formula is definitely a cream, and not a serum or gel (my preference), but it's also a fairly light cream, which my easily clogged pores prefer. It's got the same hydrating ingredients as the other products, plus anti-aging peptides and CAFFEINE which is my number one favorite puffiness-fighting ingredient! Caffeine instantly tightens the skin, and I really think it needs to be in any good eye cream.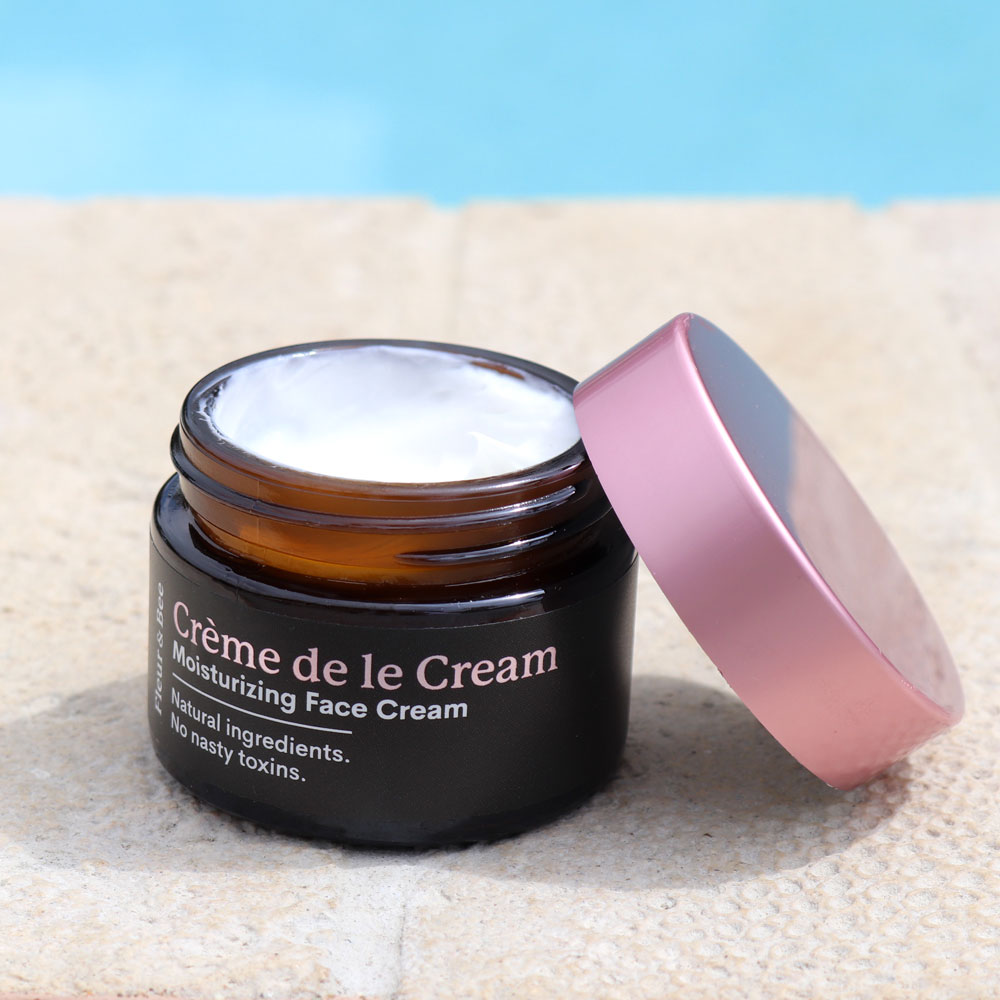 And last but not least, the Creme de le Cream facial moisturizer is a nice, medium-weight face cream. It's got all the good stuff: Vitamin C, Vitamin E, green tea, pomegranate, acai, aloe vera, veggie glycerin, gotu kola, honeysuckle, geranium, CoQ10, peptides, and more. The oils are safflower and sunflower, which shouldn't clog pores or aggravate acne for most people. This cream is very hydrating, but not thick or greasy at all.
Like the other products, the cream is cruelty free, vegan, paraben-free, gluten-free, and has NO artificial fragrances. I HATE when skincare products have artificial fragrances. The only reason they are there is because people like to sniff creams before they buy (which is NOT a useful indicator of a good face cream) or they are trying to cover up a natural scent that is not so good. If something is listed as "fragrance" on a label, it could be harmful to your body, it could cause an allergic reaction, or at the very least it could dry out your skin. I avoid them when possible!
Source: mybeautybunny