Men's Fashion Week Offers An Abundance Of Accessories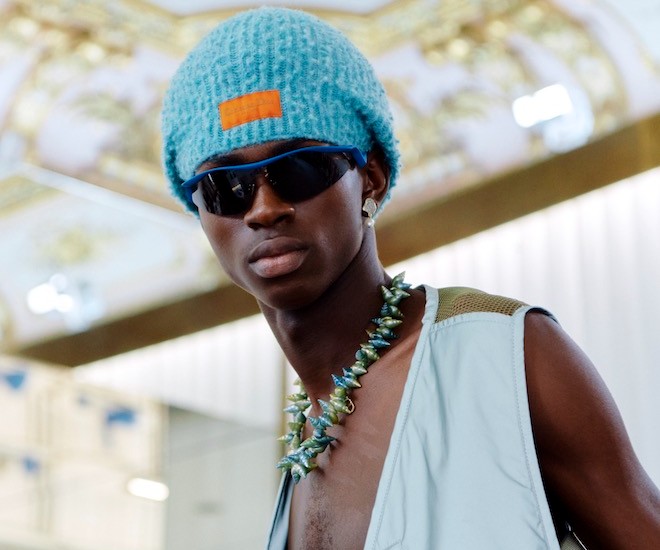 Image: Dior Men
With the entrance of Paris Fashion Week, the menswear season comes to an end, allowing manufacturers to express their creativity and dig into thematic inspirations that allow accessories to flourish on the runway. From Dior Men reimagining urban workwear with their footwear to Louis Vuitton painting the catwalk with brightly colored bags, fashion week has no shortage of accessories.
Maximalism
Image: Versace
Things to look out for:
– Monochromatic sneakers
– Statement belts
– Pattern printed bags
– Brightly coloured bucket hats
Maximalism reigns supreme in the Spring Summer 2023 collections, with brighter colours and a hint of nostalgia. The runways of mega fashion firms such as Louis Vuitton and Versace are dominated by expensive garments and accessories. This season's major trends are neon-colored shoes, charm-embellished belts, and pattern-printed bags, which can be seen throughout the presentations. The Spring Summer 2023 collection from Louis Vuitton leads the way, with a whimsical nod to Virgil Abloh's debut for the label just four years ago. The collection has Abloh's typical themes of boyhood, freedom, and joy, which are further emphasized by the accessories, which include novelty-shaped bags, colorful, logo-filled belts, and brilliantly colored boots.
Similarly, Versace's current collection is filled with clashing, vibrant colors that exude a sense of exuberance. The collection has a "youthful openness, optimism, and vitality" about it, with big silhouettes and archival prints mixed in with bright colors. Models are seen wearing small teacup accessories, saucer earrings, and Medusa sunglasses. KidSuper, a New York-based streetwear-focused fashion business, likewise embraces the maximalist aesthetic. They showed monotone shoes and funk-inspired sunglasses to go with their brilliantly colored outfits this year.
Moschino, another company that helped to the birth of maximalism, pays tribute to the late artist Tony Viramontes with a vivid and aggressive approach to the collection. Models wear polychrome-treated blazers, jackets, and topcoats, with matching pattern-printed purses and trooper boots. Each style is complimented with colorful, unconventional latex headgear and trilby hats, lending an aggressive and forceful spirit to the collection.
The Great Outdoors
Image: Givenchy
Things to look out for:
– Soft utility boots
– Stylised hiker-inspired sneakers
– Oversized backpacks
In this year's Spring Summer 23 collection, fashion companies such as Dior Men and Givenchy can be seen reimagining urban workwear. Elevated daily basics went down the runways and onto trend boards, with soft utility boots, belt bags, and covetable accessories elevating workwear to a staple, stand-alone piece. Previously seen exclusively as safety footwear, companies like as Rick Owens, Dior Men, and Givenchy have boosted its standing to become one of the season's most covetable and trendy pieces through color manipulation and print innovation. Givenchy's Spring Summer 23 collection is inspired by the vast outdoors, with versions on the all-knitted TK-360 shoes, large backpacks, and new angular eyeglasses named "The G-cut."
Despite the fact that the fashion sub-genre was popular last year, Dior Men's summer show indicates that #gorpcore isn't going away anytime soon. The fashion brand captures the streetwear movement, which is influenced by hiking and other outdoor activities. The collection delves into technical outdoor clothing with utilitarian backpacks, belt bags, and other pastel-colored fitted clothes. Models wore wide-brimmed, 3D-printed gardener's hats, caged footwear, hiker-inspired shoes, and nylon-strapped camping bags in keeping with the "adventurous chic" motif.
Travel Chic
Things to look out for:
– Open-toed sandals
– Reimagined loafers
– Brooches
– Travel Bags
Summer brings with it a sense of freedom, relaxation, and lightness. Hermès, Brioni, and Fendi have all embraced the ease and elegance of summer and transformed it into fashionable, vacation accessories that are ideal for the holiday occasion. Fendi, Hèrmes, and Dsquared2 runways featured barely-there sandals and flip flops, as well as beachy-bright cotton canvas bags and bucket hats in a rainbow of colors.
Brioni's Spring Summer collection follows suit, with delicately fitted shapes in pleasant, painterly colours. Its round-toe loafers go wonderfully with the newest collection's brooch accessories, giving off a classy, cultured vibe. Speaking of loafers, companies such as Sacai and Ermenegildo Zegna sent their models down the catwalk wearing unique takes on the basic footwear. Painting the footwear in soft, organic tones to create a coherent monochromatic design, as well as deviating from the traditional look and playing with sole width to produce a carefree, formal, lightness.
Vintage Revival
Image: Gucci
Things to look out for:
– Cuban heeled boots
– 70s era sunglasses
– Beaded statement necklaces
Designers at major fashion businesses have long been influenced by their archives, frequently drawing inspiration from prior eras of design. However, there is a genuine retro resurgence on the Spring Summer 23 runway this season. The Alessandro Michele x Harry Styles collection for Gucci seemed especially nostalgic; the bohemian-styled tailoring and matching pajama suits decorated with cherries, elephants, and squirrels are humorously matched with retro-shaped sunglasses and white, Cuban-heeled boots, evoking the 1970s era.
Dsquared2's collection, on the other hand, reflected a more casual and punk side of the 1970s. This season, in honor to the late reggae legend Bob Marley, Rastafarian style was merged with two dramatically different identities — the comfortable surfer and rebellious biker. Models wore crochet knits and patch-worked leather jackets with layered, beaded necklaces and leather-ringgit sandals from the 70s-inspired collection. The combination was ideal for capturing the essence of 1970s Jamaica while blending Italian opulence and bohemia.
Metaverse Inspired
Things to look out for:
– Thigh-high boots
– Futuristic eyewear
– Chunky silver jewellery
– Crossbody micro bags
Brands are introducing futuristic trends into the runway as a result of the advent of technology and its inevitable merger with fashion. Military-inspired coats, genderless apparel, and digital-inspired accessories have all shown on this year's Spring Summer runways. VTMNT's recent presentation included thigh-high boots marching down the runway. Red and black leather boots look great with asymmetrical blazers and modern military bomber jackets. Its anti-uniform and non-gender-conforming stance appeals to people who desire to express themselves via fashion.
Another theme in this year's collection is the abundance of massive, silver jewelry strewn throughout the runways. Givenchy used the occasion to promote its accessories range, which included futuristic eyeglasses and stacked silver necklaces, while Loewe displayed its mini, cross-body bags. You may spice up your summer and express yourself to the maximum degree next year by using the large range of these Spring Summer 2023 accessories.