Lisa From Blackpink Has Been Appointed As The New Chivas Regal Asia Brand Ambassador
Image: Chivas
LISA of Blackpink has been named the new ambassador of Chivas Regal, the world's leading blended Scotch whisky. She is also the first female face of the brand in Asia.
The influential K-pop musician shares how her journey aligns with Chivas' ethos of "success and elevating those around you" in the new 'I Rise, We Rise' campaign. Chivas is well-positioned to appeal to a new generation of Scotch drinkers, particularly in Asia, as LISA continues to forge her own path and inspire on a larger, global scale.
Image: Chivas
Leading in self-confidence and empowerment, LISA has undoubtedly broken boundaries and went beyond social parameters in her story to success. K-pop is a definite non-stop hustle and LISA proved that multiple years of training and tenacity have definitely paid off. LISA is the ultimate symbol of hard work, determination, humility and generosity — an apposite embodiment of Chivas' principles. "There were no shortcuts to get where I am," LISA says in the campaign film. "After being on such a huge personal journey and hustling over the past few years, I want to inspire people to elevate themselves".
As a whisky fan with closely aligned values, the artist adds that it was only natural to partner with Chivas. LISA is the ideal spokesperson for the campaign, according to Nick Blacknell, Chivas' global marketing director. Apart from sharing the brand's values, the international superstar is "a role model for the next generation" and "appeals to a variety of passions, including music and fashion." As Chivas Regal enters a new era, the dynamic partnership aims to reach out to new demographics.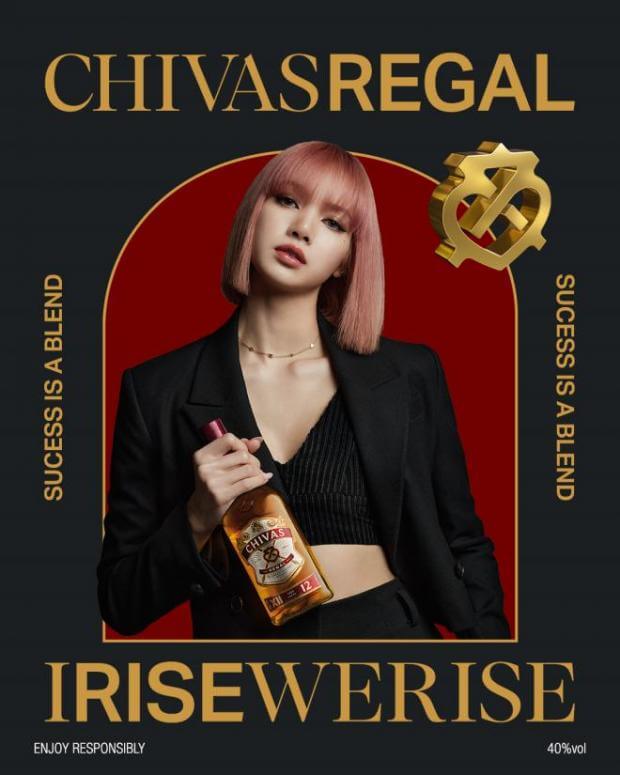 Image: Chivas
The ad, directed by Liukh and shot on location in Seoul, South Korea, features LISA encouraging viewers to achieve success on their own terms while sipping a refreshing Chivas Highball. Throughout 2022, there will be live events, activations, and exclusive drops. In addition, the Scotch Whisky brand unveils a new and environmentally friendly design for its signature Chivas 12 expression, reborn for the modern, environmentally conscious whisky drinker. The bold and modern upgrade of the bottle, label, and pack uses less glass, plastic, and energy in recycling.
Watch the campaign video below, and go to chivas.com to get your own blend of success.
In other news, Leonardo DiCaprio has purchased a stake in French champagne Telmont as part of his commitment to sustainability and environmental stewardship.