Hublot Big Bang Tourbillon Automatic Yellow Neon SAXEM: A Revolutionary Watch with Unmatched Vibrancy
Hublot has pushed the boundaries of watchmaking with its groundbreaking creation, the Big Bang Tourbillon Automatic Yellow Neon SAXEM. This extraordinary timepiece boasts a yellow case made from SAXEM composite, a material that took three years to perfect. As the first watch in the world to feature a yellow SAXEM case, it represents a remarkable achievement in both design and engineering. Let's delve deeper into the story behind this innovative watch and discover why it stands out among its peers in the world of fine watchmaking.
SAXEM Composite: Unveiling the Material Wizardry
SAXEM, an acronym for Solid-State Laser Excitation of Modified Crystalline Materials, made its debut in the watch industry through Hublot's Big Bang MP-11 in 2019, featuring a green case. The development of SAXEM in yellow presented a new challenge for Hublot's material experts, resulting in a meticulous three-year process to achieve the desired material properties. So, what exactly is SAXEM? It is a composite material that shares characteristics with solid-state lasers. Hublot's embrace of both functionality and fun led them to create a watch that not only performs flawlessly but also captivates with its vibrant colors.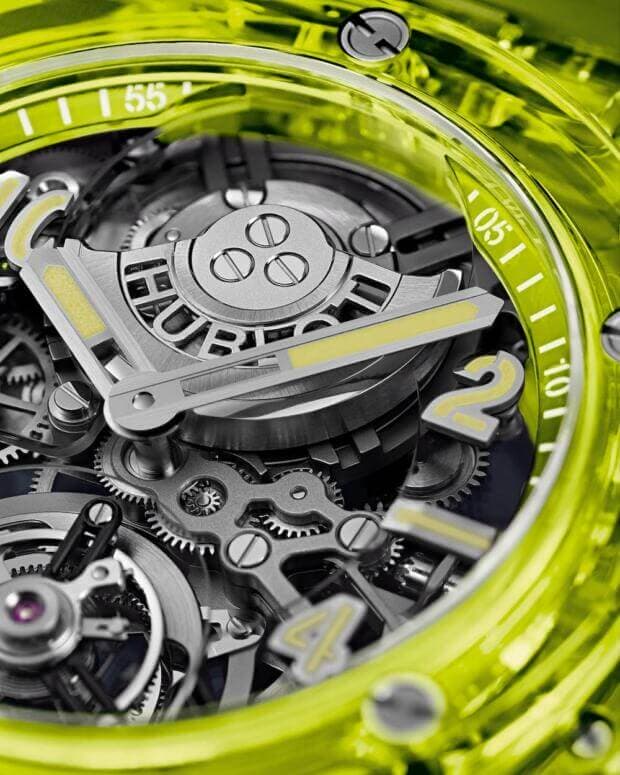 The Fascination of Colored Sapphire Crystal
The captivating yellow hue of the Big Bang Tourbillon Automatic Yellow Neon SAXEM is a result of a precise blend of rare earth metals combined with sapphire crystal (aluminium oxide). Just as natural sapphires derive their colors from metallic impurities, Hublot's expertise in research and development has enabled them to replicate this process synthetically. No other watch brand, Swiss or otherwise, has utilized SAXEM to create such striking timepieces. It is worth noting that the R&D efforts invested in SAXEM may have influenced the creation of colored sapphire crystal cases by other brands, such as Louis Vuitton.
Unparalleled Brilliance and Durability
Despite its vibrant color, the SAXEM material retains the transparency and scratch-resistant properties of traditional sapphire crystal. In fact, Hublot asserts that SAXEM exhibits even greater brilliance than conventional sapphire crystal. While slightly heavier than its counterpart, SAXEM remains lightweight and ensures optimal comfort for the wearer. It is important to handle the watch with care, as strong forces at certain angles may lead to cracking or shattering, as is the case with all sapphire crystal timepieces.
Innovative Features and Uncompromising Craftsmanship
The Big Bang Tourbillon Automatic Yellow Neon SAXEM features the automatic HUB6035 calibre, renowned for its micro-rotor and tourbillon complications. Hublot has introduced a textured rubber strap in neon yellow, specially developed to complement the watch's vibrant aesthetics. Additionally, the One-Click interchangeable strap system allows for customization, providing the option to switch to other strap variations available from Hublot.
Conclusion: A New Era in Vibrant Timekeeping
Hublot's Big Bang Tourbillon Automatic Yellow Neon SAXEM stands as a testament to the brand's dedication to innovation and aesthetic expression. With its yellow SAXEM composite case, this timepiece elevates the concept of colorful luxury watches to unprecedented heights. The meticulous craftsmanship, exceptional brilliance, and durable design make the Big Bang Yellow Neon a truly remarkable masterpiece, destined to captivate watch enthusiasts and collectors alike.
MOVEMENT Automatic HUB6035 with tourbillon and micro-rotor; 72-hour power reserve
CASE 44m in SAXEM; water-resistant to 30m
STRAP Yellow rubber
PRICE S$296,900; Limited to 50 pieces