Gucci x Adidas Will Be Available In Stores On June 7th
The fashion world was ecstatic when Gucci announced their cooperation with Adidas for Fall/Winter 2022. Fans won't have to wait long to get their hands on the highly anticipated release. The collection will be available in select locations and online on June 7, 2022.
Collaborations have long been a staple of the fashion industry, and the pinnacle of this co-branded exercise was Gucci's Hacking Project with Balenciaga for Fall 2021. It was a successful prank, as sales for the fourth quarter of 2021 increased by 32%. This is a solid indication that customers are interested in such collaborations. Adidas' collaboration with Prada was also highly appreciated by fans, propelling the sportswear brand to the 17th position on the Q1 2022 Lyst Index.
Image: Gucci
Gucci's design director, Alessandro Michele, took inspiration for this new collection with Adidas from his passion with 1970s athletic ads. Carlign Jacobs created this style by having models stand against brilliantly colored backdrops while wearing various items from the collection.
The fusion of these two legacy companies results in the blending of their recognizable stripes. The Adidas Three Stripes appear on one leg of the track trousers, while the Gucci red and green Web appears on the other. Similar variations may be found on the shirtsleeves.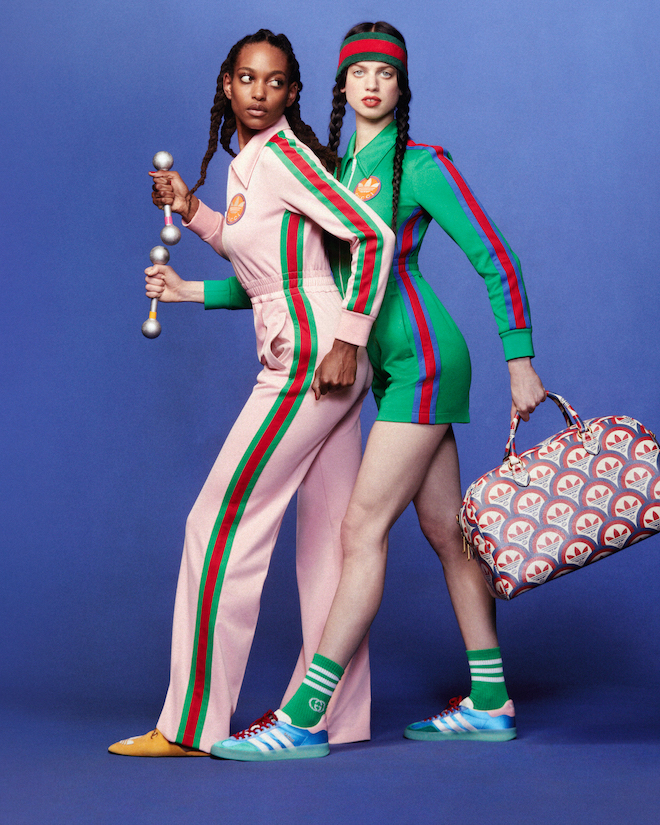 Image: Gucci
Adidas' Trefoil logo is found on knitted crop tops, bowling shirts, bomber jackets, and shorts, as well as Gucci's Interlocking GG pattern. Those seeking for more unique pieces will love the geometric pattern. This new co-branded mark may also be seen on accessories such as golf bags, bucket hats, and crossbody bags.
Image: Gucci
Michele's infatuation with the renowned Adidas Gazelle leads in a new version of the much-loved footwear for a brand that prides itself on its sneakers. The legendary Horsebit loafers from the Italian company are now highlighted with the Adidas Trefoil and 'Gucci' writing and are available in leather or suede.
Image: Gucci
This collection will undoubtedly be a success. Michele's maximalist aesthetic shines through with bright colors and logos, but the items are still subtle enough to appeal to fans of normcore. Perhaps the goal of the co-branding campaign was to broaden the brand's appeal in the first place. According to Kering's most recent financial report, Gucci's sales aren't as strong as they once were, and the Gucci x Adidas partnership might be the turning point needed to maintain interest high.
Keep an eye out for this collection, which will be available on June 7th, and you can purchase it online.
Featured Image: Gucci