Gucci Redesigns The Dive Watch Using Bio-Based Rubber That Is Sustainable
Image: Gucci
The Gucci Dive watch represents the distinct character of the Italian fashion house and the fun it takes in experimenting with design. It is playful, useful, and completely original. It now combines its emphasis on sustainability with stylish watches thanks to 100% recycled steel, bio-based rubber, and four vibrant colors.
It is based on athletic watches and blends traditional and modern performance characteristics. While the classic incarnations are constructed of cloth, rubber, and steel, the luxury house's bio-based equivalents are made primarily of rubbery plastic, with recycled steel utilized for the crown, clasp, and case back.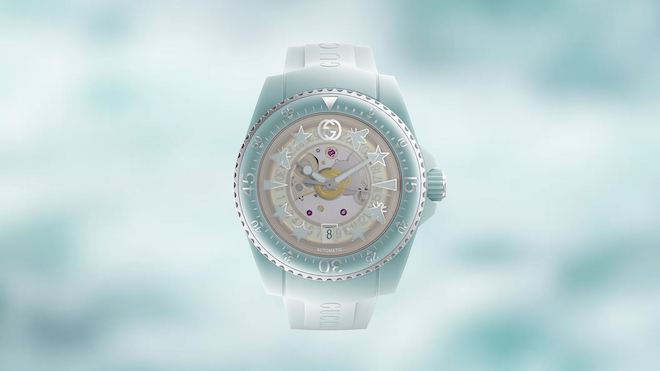 Image: Gucci
The phrase "plastic" may scare off more environmentally conscious customers, but the Dive's plastic is obtained from renewable and natural sources. At least 65 percent of the casing is made of eco-friendly materials, and at least 46 percent of the strap is made of the same.
Image: Gucci
In terms of technical specifications, the clock is water resistant up to 200 meters and operates on an automated movement. For improved sight, the sapphire glass is coated with an antireflective coating. But you'll have to look to the skies to know the time; in line with Gucci's unique, eccentric nature, instead of regular numerals, Gucci adds stars, bees, and an interlocking "GG" to keep things light and whimsical. The inventive combination of the bee and the distinctive Gucci brand trademarks serves as a symbol of the merger of fashion and watchmaking.
The Dive is available in a limited run of brighter colors than prior collections from the company. Each color is applied to the bio-based strap and watch face, with gold accents on the dial. Gucci then engraves its emblem on the case's back, the clasp, and the crown.
Image: Gucci
Gucci said that it is "committed to severely decreasing its impact along its entire supply chain and implementing climate-smart solutions to help conserve and restore nature for the future" as part of its charitable Equilibrium Initiative. Whether it's adding sustainable leather into its bags or eliminating single-use plastic from its offices, the luxury label wants to be open about its plans to achieve its circular objectives by 2025.
Although the Gucci Dive Bio-Based models' sustainability and attractive appearance are the most prominent qualities, the 40mm diameter case, coloured clear dials, 38h battery reserve capacity, and 200 meters (20 ATM) water resistance are some of the more subtle, yet amazing aspects of these watches. The new Gucci Dive Collection members appear to have captured the hearts of many watch enthusiasts. Emphasizing both the necessity of sustainability and the value of design.