Gift Idea: Physicians Formula Rosé Bouquet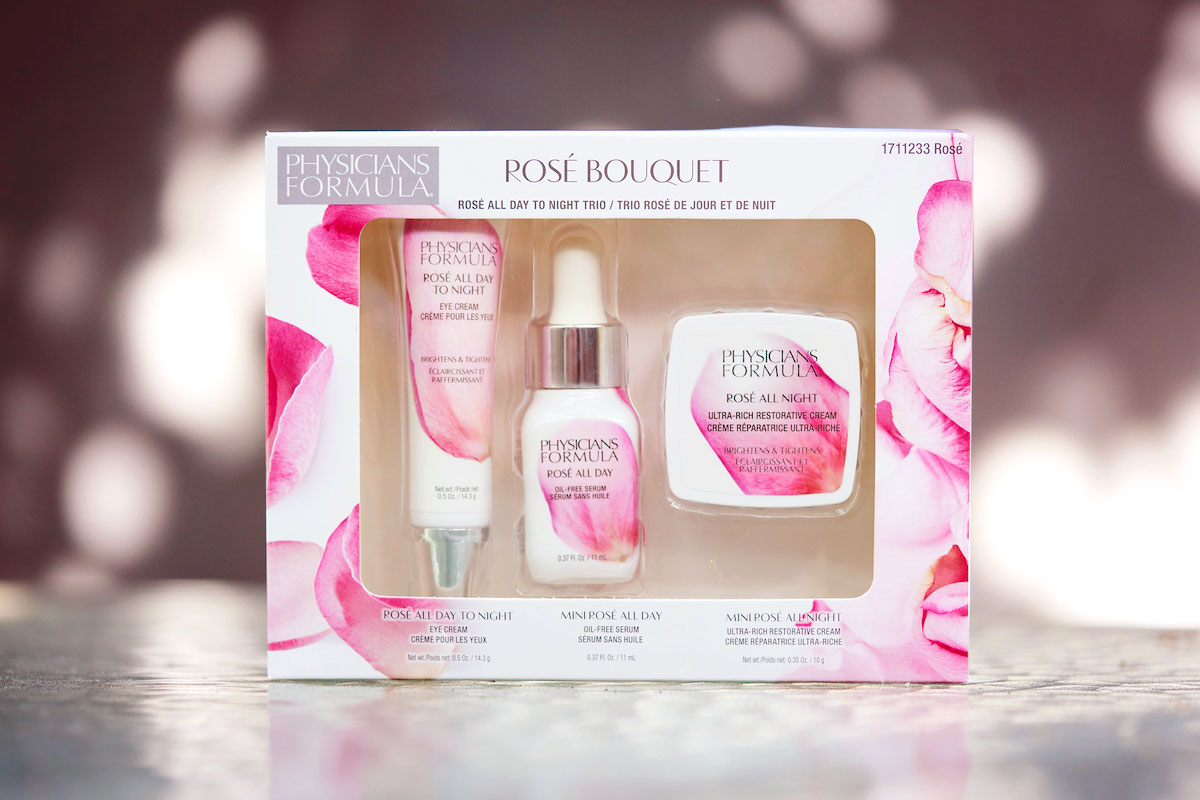 All photos by Joe Kohen
A Gift That Lasts Longer Than Roses – Physicians Formula Rosé Bouquet
Physicians Formula has a brand new limited edition, rose-scented skincare gift set called Rosé Bouquet. If you're like me and you love the scent of roses, you're going to want to check this out! As usual, Physicians Formula is putting out high quality sets at very reasonable prices ($19.95). Let's take a look at what you get.
The Rosé Bouquet set comes with a full sized Rosé All Day & Night Brightening & Tightening Eye Cream, a Rosé All Day Oil-Free Serum (mini size), and a Rosé All Night Ultra-Rich Restorative Cream (mini size). The products are (not surprisingly) rose scented, which I love! That scent isn't for everyone though, so if you're giving it as a Mother's Day or birthday gift, make sure your recipient is down with roses!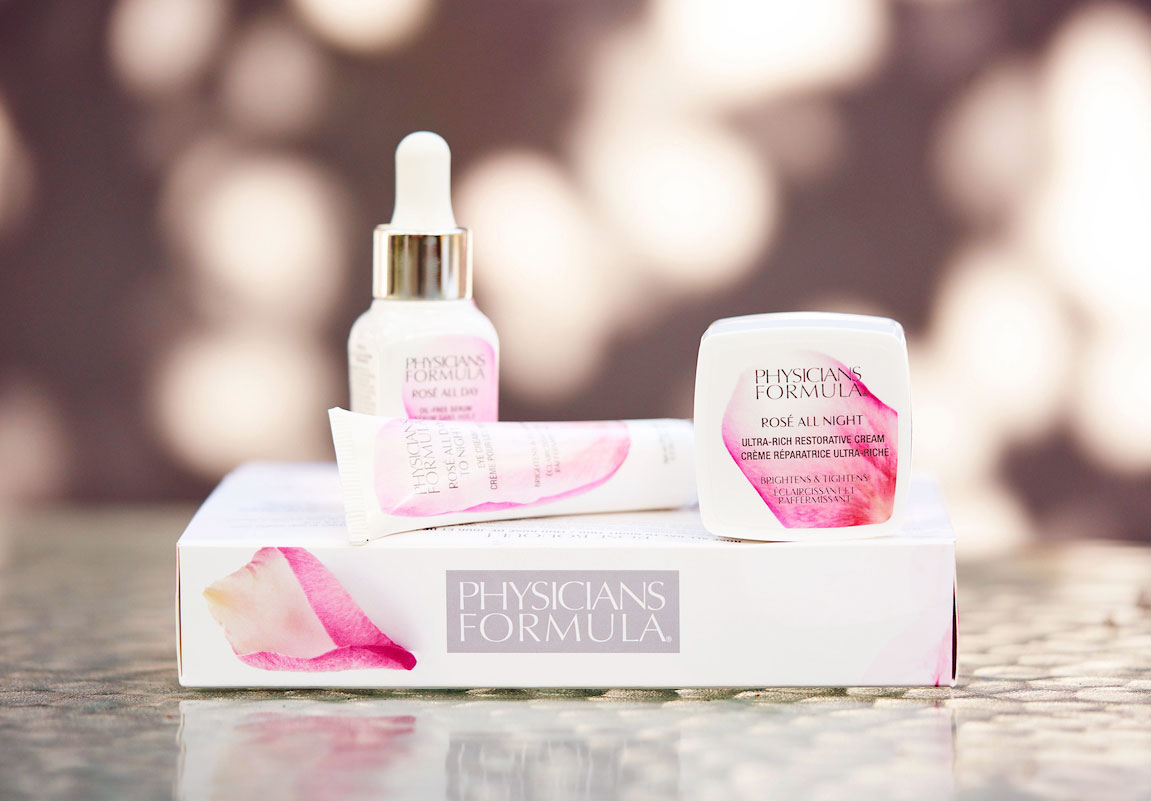 The key ingredients in all three products are: kakadu plum (besides being fun to say out loud, also has more skin-brightening Vitamin C than any other fruit), rose water (calming to the skin), rosehip oil (nourishing and healing), goji berry (full of antioxidants) and tightening agents. The products are hypoallergenic, paraben-free, gluten-free, dermatologist tested and OF COURSE cruelty free (not tested on animals)!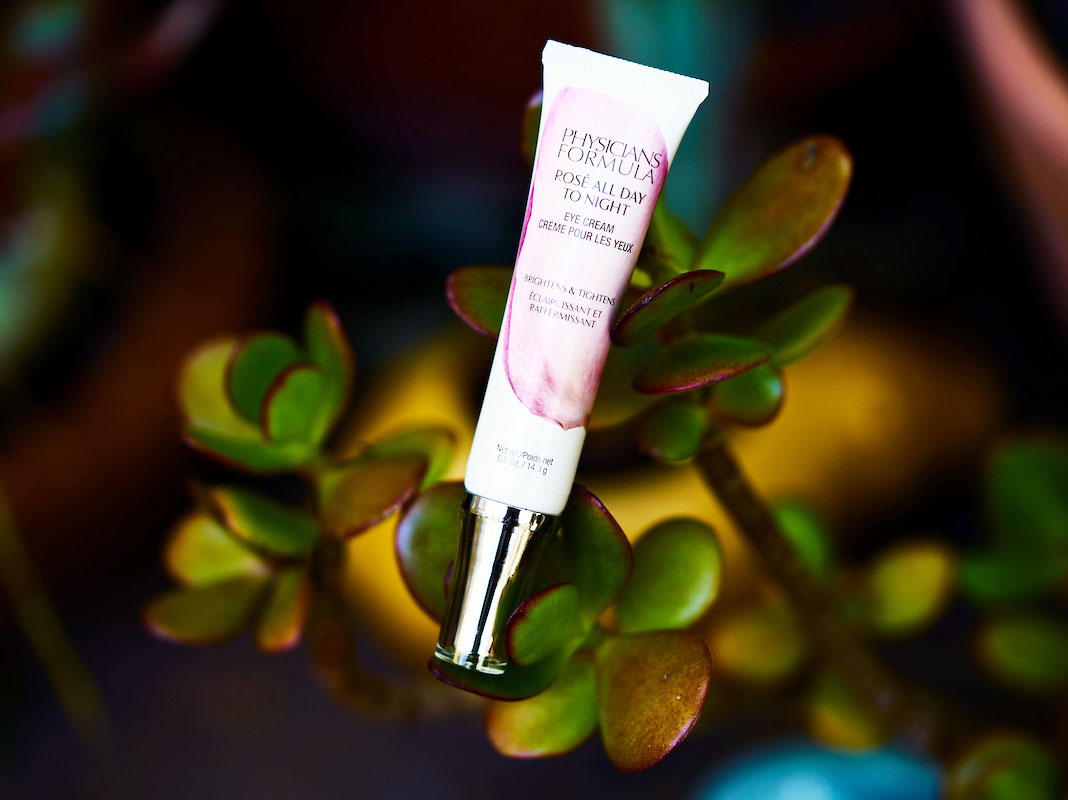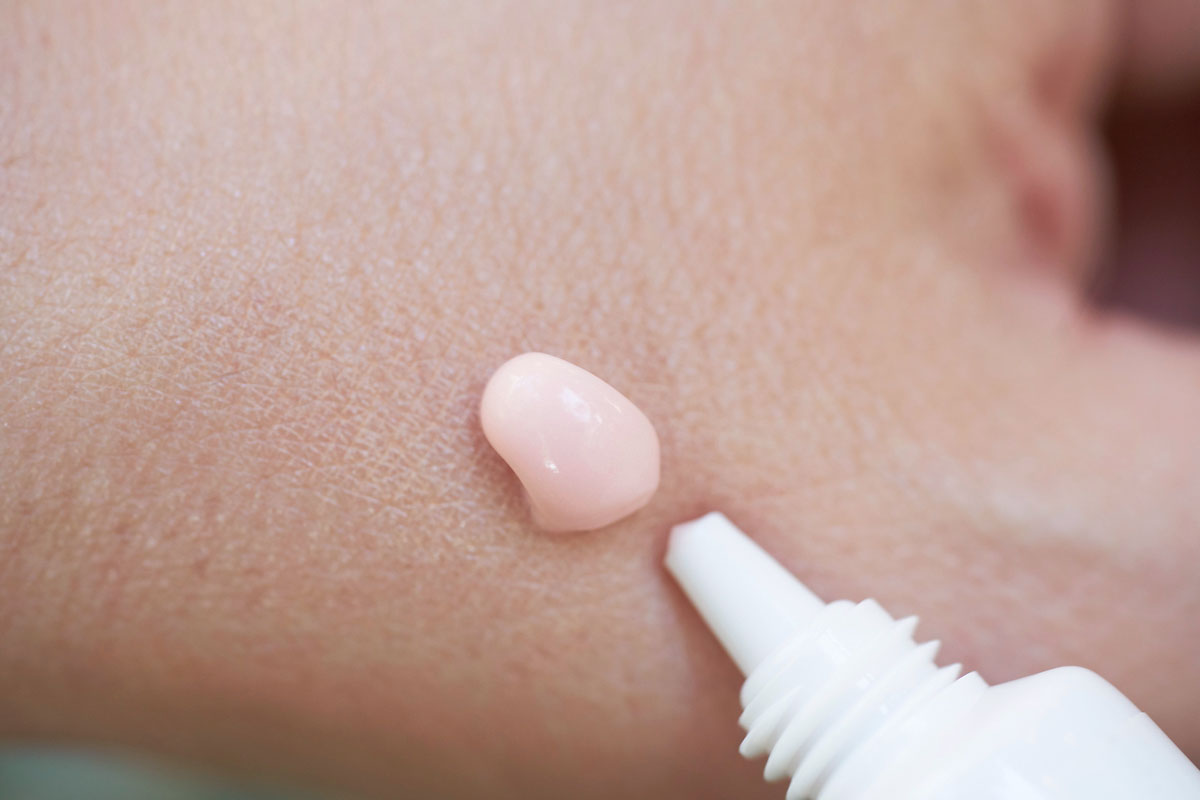 The Rosé All Day & Night Brightening & Tightening Eye Cream (quite a mouthful!) is great for hydrating and tightening the undereye area. I love that it hydrates without being overly thick (it's sort of a light, milky gel). Thick creams can be too heavy for some people (including me) which can cause clogged pores and millia near the eyes, which can be hard to treat. Between the light pink tint and the tightening and line-filling ingredients, I feel like my eyes look more refreshed when I use this eye cream. With regular use, it helps to prevent the breakdown of collagen and elastin, for more youthful skin.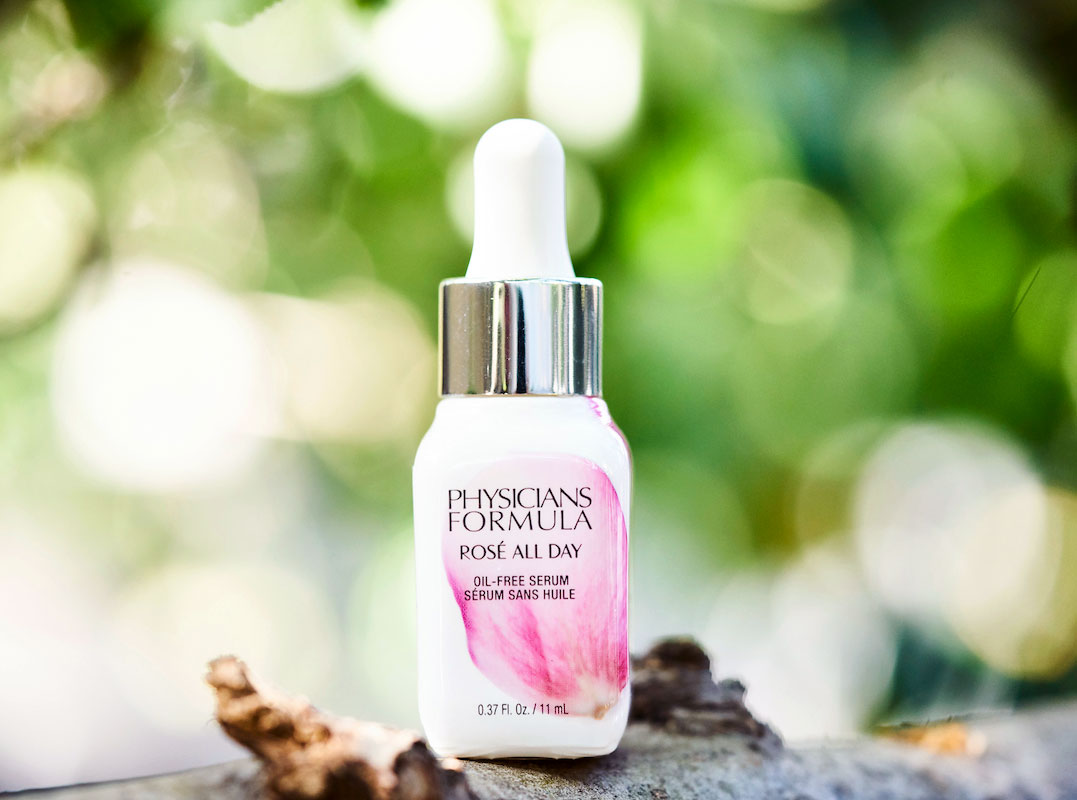 The Rosé All Day Oil-Free Serum is perfect to wear during the day. It has what they call a "pearluminous formula". I would call it a rose gold, almost holographic, highlighting effect. It gives you an instant dewy glow! When you rub it in, the effect is noticeable but still subtle. Under makeup, the effect will be diminished, but you may still see a hint of a glow. Don't worry – you won't look like a shiny disco ball! The formula is full of antioxidants, rose water, kakadu plum, goji berry, apple fruit, and radish root ferment.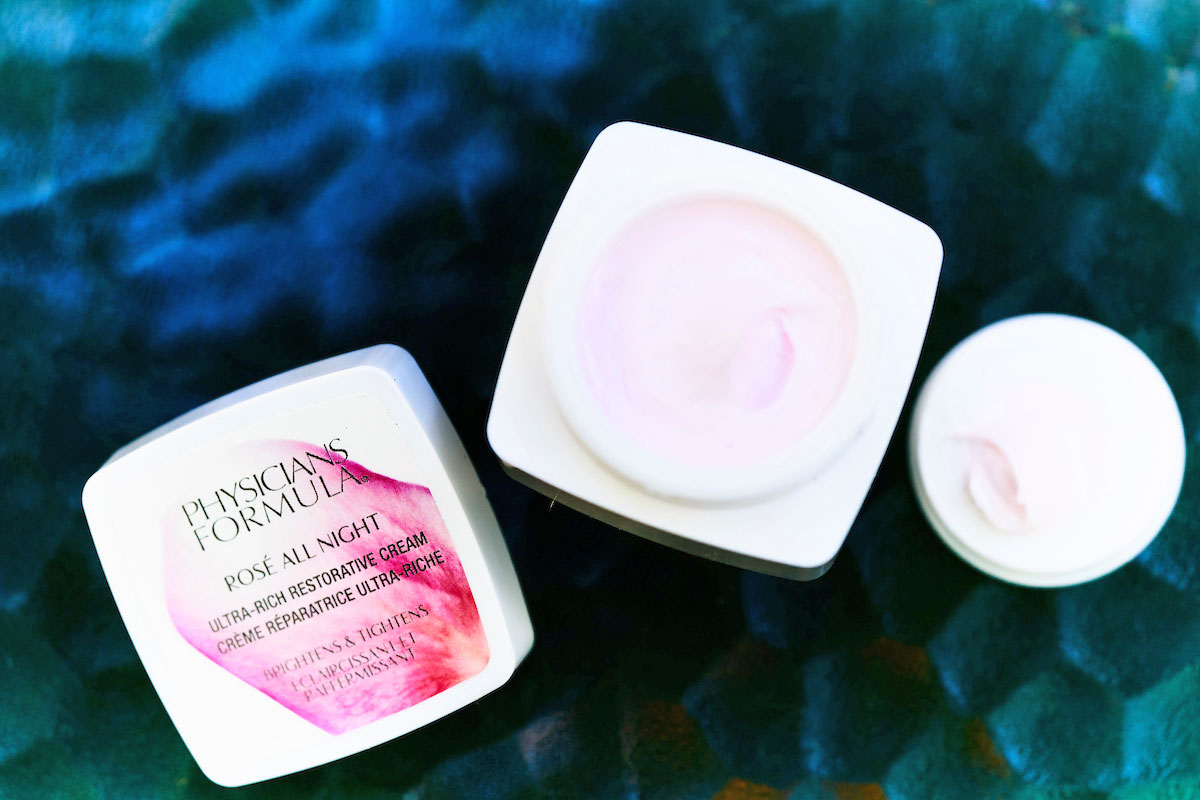 The Rosé All Night Ultra-Rich Restorative Cream is a thicker, whipped formula – perfect for nighttime. It gives your skin extra moisture so it can repair while you're getting that deep restorative sleep. Like the eye cream, the night cream contains sea mayweed, a plant in the aster family that is known as a natural alternative to wrinkle fillers.
This Rosé Bouquet Kit gift set is perfect for Mothers Day (if you haven't picked something up yet!), and it also makes a great day to night travel set if you're planning on going anywhere this year. You can find the set (or large sizes of each item) at drugstores or physiciansformula.com.
P.S. – Physicians Formula is having a HUGE 50% off flash sale this weekend (but this gift set is excluded from the promotion). Use code FLASH50 to save 50%!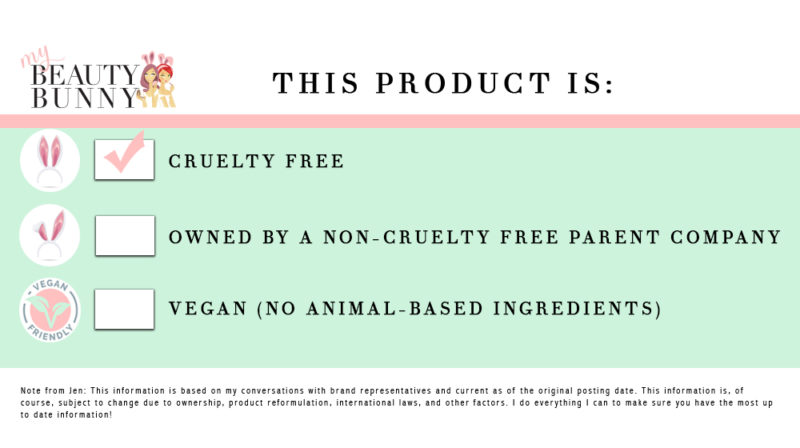 Source: mybeautybunny