Geneva Watchmaker Patek Philippe Is Exhibiting More Than 75 Rare Handcrafts Timepieces At The Iconic Rue Du Rhône Location In The City
995/122J "Panda"
Starting today, Geneva watchmaker Patek Philippe is exhibiting more than 75 Rare Handcrafts timepieces at the iconic Rue du Rhône location in the city. Unlike many watchmaking firms, Patek Philippe believes you need to see this sort of thing in person to understand exactly why these crafts are so precious, so registration at http://www.patek.com/rhc2021/ is essential. If you are based in Europe, it is well worth checking out the exhibition as such experiential affairs organised by the watchmaker are indeed amazing (we recall the Grand Exhibition in Singapore fondly, in the before times). You do not even need to know what you will be seeing, just register and secure a spot. As far as we know, there is no digital alternative. It is open every day (except Sunday, unfortunately) from 11am to 6pm.
Ok, so this year, Patek Philippe is showcasing roughly 70 timekeepers from the Rare Handcrafts collection from 2020, plus the very first public showings of the 2021 pieces. As you can see from the images here, these are not the novelties, nor are they all wristwatches. All the pieces are unique, or limited editions that showcase the crafts that distinguish fine watchmaking. Now, you might think you know all about this, but we assure you that you are mistaken… unless you are a professional in this trade, of course.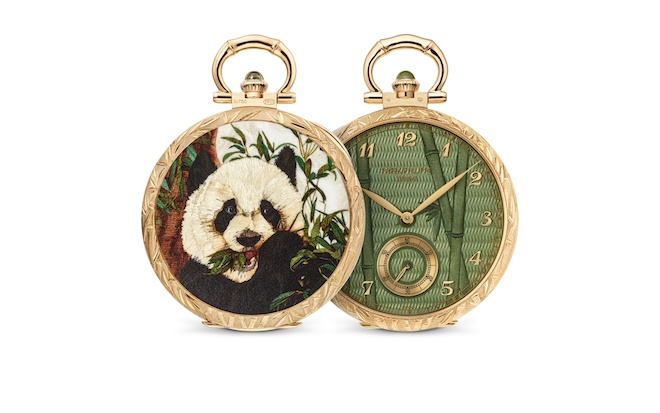 995/122J "Panda" / Pocket watch with wood marquetry, manual engraving and manual guilloching beneath transparent enamel (flinqué enamel)
20105M "Jazz" / Dome table clock in cloisonné enamel
So, unless you are an antiquaries specialist or a watchmaker, even the most studied of collectors might fail to recognise some techniques. Take Longwy enamel on faience for example, which we genuinely thought was a typo or the name of a town somewhere. Turns out we were half-right, which we will happily take. Longwy is a town in the Grand Est region of France, and it has produced this signature faience since 1798; faience is a sort of tin-glazed pottery. See, we learned something already, and maybe you did too.
Other more well-known techniques include manual engraving, precious miniature painting on enamel (a Genevan specialty), flinqué enamel on hand guilloching, paillonné enamel, enamel with Limoges painting, fauré enamel (relief enamel), and gemsetting. Also showcased in the exhibition pieces are examples of wood micromarquetry as well as mixed-technique pieces that combine marquetry, manual engraving, and flinqué enamel. We have not seen the full set of pieces, and the above description is courtesy of Patek Philippe.
The Rare Handcrafts 2020-2021 exhibition is the only place to both learn about forgotten and threatened artisanal crafts, while also seeing all the treasures created by Patek Philippe in one place. Yes, you can meet the craftspeople and watch them work, which is a rare treat and not at all creepy… Seriously, they are used to having strangers watch them work, because it helps the trade. All the timepieces will be heading to private collections after the exhibition ends.
All images and video courtesy of Patek Philippe