Four Global Stars Have Descended Into The Eternal City Of Rome For Bvlgari's Latest Campaign, "Magnifica"
Four global stars have descended into the Eternal City of Rome — they are Emmy-award winning actress, Zendaya, a member of the phenomenal Kpop group Blackpink, Lalisa Manoban and two international supermodels, Lily Aldridge and Vittoria Ceretti. All four ladies are the global ambassadors of the Roman jewellery atelier Bvlgari and together they have come together to front the brand's latest campaign, "Magnifica". Drawing inspiration from one of the brand's most recognisable advertising campaigns from the early eighties, "Dreams", the quartet celebrates its joyous spirit, eternal modernity and art de vivre.
Lily Aldridge
Captured by photographer Txema Yeste, the campaign brings Rome to the world in a time where international travel still remains to be a distant dream. But, that's the power of dreams. To allow one to imagine the impossible. The press release states, "Dream and reality, unrestrained beauty and authentic joy, the intensity of a moment and timeless glory complement each other in settings beyond space and time. Secret views, seductive statues that seem awaken to life, an ancient eden blooming with fresh flowers every day: this is the reign of infinite possibilities."
Vittoria Ceretti
Seen on the ladies are some of Bvlgari's legendary designs, such as the "Serpenti," "Divas' Dream," "Fiorever," and high jewellery collections. Going beyond the aesthetic values of these iconic pieces, what matters more is the intrinsic qualities associated with them. These women are masters of their respective fields and "live life on their own terms": a true representation of empowerment, and together they are an inspiration to many women.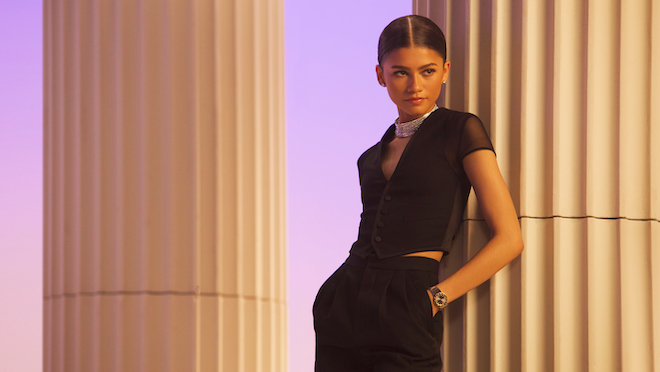 Zendaya
Bvlgari CEO Jean-Christophe Babin also discussed the topic of "Women power" in the luxury industry, and he remarked, "Contemporary women are increasingly independent financially, they buy jewellery for themselves, regardless of the partner, rather than a particular event such as an anniversary or a promotion." Modern women are no longer constrained by society's expectations, but they are makers of their own destinies.
For more information regarding this campaign, head over to the official Bvlgari website.
All images courtesy of Bvlgari