DIY Cruelty Free Hair Mask Recipes you Can Make at Home
5 DIY Cruelty Free and Vegan Hair Mask Recipes
The hair is the crown of the head, and having a revitalized, strong and beautiful crown is always the goal isn't it? Well what if I told you I have five completely cruelty free and vegan DIY hair mask recipes to create your very own at-home hair masks to keep your hair at its absolute best, without breaking the bank?
Some of the best ingredients for a homemade hair mask include, avocados, bananas, lemon juice, coconut oil and strawberries. Avocados have fatty amino acids, which are key in hair growth and strengthening from root to tip. Bananas also are full of Vitamin B6, potassium and Vitamin C which are essential in the restoration of damaged hair. Lemon juice and coconut oil are strong ingredients that reduce dandruff and create the foundation of a healthy change in your hair experience. Finally, strawberries have a high amount of Vitamin C that can aid in strengthening hair.
So, without further ado, let's get you behind the beauty counter, mixing your very own hair care regimens and getting that hair moisturized, hydrated, fresh and smelling amazing too!
Kitchen Sink DIY Vegan Hair Mask
First up, these ingredients are almost as tasty as nourishing for your hair!
Avocado (1 half)Banana (1 full)Lemon Juice ( 1 half)Almond Milk (3 tablespoons)Olive Oil (3 tablespoons)Maple Syrup (2 tablespoons)
Mashed avocado helps with the revitalization of dry hair. To have stronger hair starts with a solid foundation, and with a mix of all these products, that healing can begin. Adding banana and olive oil helps to retain moisture and hydrate hair directly at the source. Lemon juice helps to remove build-up (just don't leave it on in the sun or you'll fry your hair), and almond milk's natural proteins helps to increase volume and add even more strength from your scalp. Finally, with the most unconventional moisturizing ingredient in this mix, maple syrup, you can retain the new moisture and keep the hair properly maintained.
This biweekly treatment can be mixed together in a large bowl, blended to make it smooth, and spread throughout your hair evenly for 15-20 minutes for the best results!
Curly Girl Vegan Hair Mask for Dry, Itchy Scalp
Dry and Itchy Scalp for Curly Girls:
Oats (1 tablespoon)Almond Milk (1 tablespoon)Almond or Olive Oil ( 1 tablespoon)Coconut Oil (1 tablespoon)
For all the curly girls out there, the thickness and volume of your hair needs some extra moisture and attention to really get your hair and scalp to its full potential! For this mask, you need a bowl to mix all the products in so they are all in one place. You will mix the oats, almond milk and oils in the bowl and feel free to put them all into a blender if you'd like, but it is a personal preference on how you like your products most. After getting the mask to your liking, you will apply to dry hair for 20 minutes and then wash your hair normally.
Vegan Hair Mask for Oily Hair or Dandruff
Oily Hair and/or Dandruff:
Strawberries (4 full)Salt (¼ teaspoon)Lemon Juice (½ a lemon)Tea Tree Oil (½  teaspoon)
For those of you who are prone to naturally oily hair and would like to minimize the amount of oil from day to day, this mask combination will help for sure! To start, you will need to mash up the strawberries with a fork, and stir in the salt, lemon juice and tea tree oil into the mix. It will be mostly smooth in consistency and you will spread the mask throughout your freshly cleaned hair, and scalp. Once the mask has soaked in,  and given you all those good nutrients, you can wash it out after 5-10 minutes!
Sun Damaged Hair Mask Recipe
Sun-Damaged Hair:
Avocado (1 full)Agave Syrup (½ cup)Olive Oil (2 tablespoons)Coconut Oil (2 tablespoons)
The summer season is full of pool parties, beach days and vacations that can lead to sun-damaged hair. This damage can result in a lack of moisture and shine for your beautiful hair. By mixing avocado, agave syrup and olive oil, you'll be able to absorb the moisture back into your scalp and lock in its beauty and shine. By mashing a whole, over-ripe avocado, adding agave syrup and olive oil to a whipped mixture, you can cover your damp hair for 30 minutes in this mask. Repeat this mask at least twice a month for best results.
Deep Cleansing Buildup Reducer Hair Mask
Cleansing Mask:
Apple Cider Vinegar (1 tablespoon)Baking Soda (1 tablespoon)Lemon Juice (2 teaspoon)Water (¾ cup)
This last cruelty free hair mask will help to clean your hair and scalp and ensure a healthier head of hair. Apple cider vinegar and baking soda are great eliminators of dandruff and build-up, and lemon juice balances the pH level of your scalp. If you mix all of the ingredients together, apply it to your hair and scalp for 15 minutes, you will see a massive change.
You can make all of these natural, cruelty free and vegan hair masks by heading over to your local grocery store or raiding your kitchen to make your hair stronger, richer and more moisturized than ever before.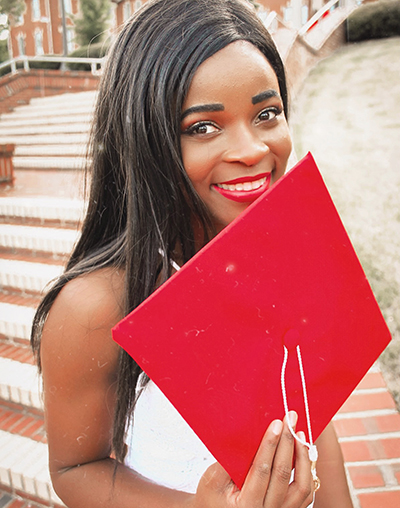 Nikki Paige is originally from San Diego, CA but currently lives in Raleigh, NC as a graduating student at North Carolina State University. Double majoring in Communication: Public Relations, International Studies and a minor in French, she plans to use her experience in social media and PR to grow in the industry. Once finishing her degree this Summer, she will be moving to the UK to continue to grow her personal social media presence as well as freelancing for fashion, travel and lifestyle companies that are looking for media managers.