Chanel's Remarkable J12 Eclipse Set: A Chapter in a Larger Tale

Photo: Chanel
Amid the dazzling array of timepieces showcased at this year's Watches and Wonders Geneva, Chanel stood out with a thematic unity that wove through its Interstellar capsule collection and general releases. The Eclipse set, a part of this grand narrative, is a collection of seven J12 watches, each artfully representing a distinct phase of the moon. However, it achieves this not through a traditional moon phase display, but by ingeniously incorporating the entire case and dial into the design, with each watch symbolizing a different lunar phase. Notably, the name of the set also alludes to the awe-inspiring phenomena of solar and lunar eclipses.
This collection is undoubtedly an exercise in visual poetry and horological innovation, best appreciated when all seven watches are arranged in sequence. The Interstellar collection, from which the Eclipse set draws inspiration, finds its muse in the realms of science fiction and the intriguing concepts of space-time. While the Eclipse set may not be a scientific instrument per se, its celestial inspiration is undeniable.
Each individual J12 model within this set shares the same foundational features as the standard models, being powered by the automatic calibre 12.1 and boasting uniform water resistance. They maintain a 38mm case size with a lug-to-lug measurement of 46.6mm. However, the wearing experience may vary depending on the interplay of white and black ceramic elements. It's worth noting that the baguette-cut ceramic segments on the bezel and dial offer not only visual appeal but also a tactile dimension. Collectively, these nuances provide a rich and dynamic experience for the wearer.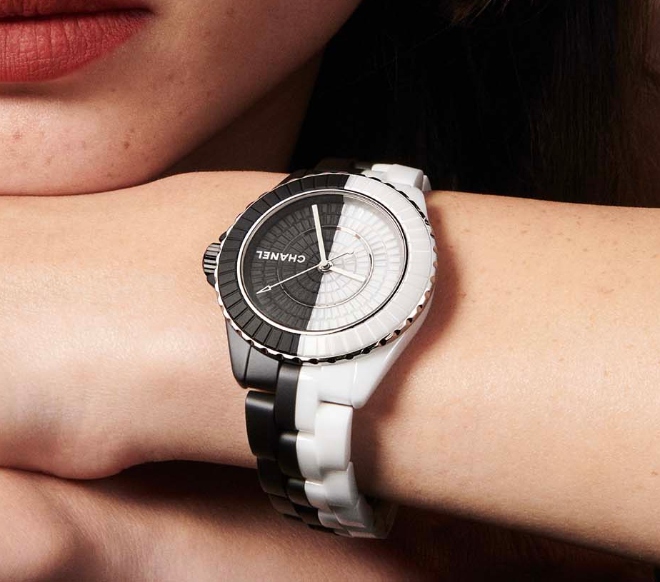 Photo: Time and Tide
It's important to emphasize that the Eclipse set is a unified and indivisible collection, sold exclusively as a whole. Any discussion of individual distinctions among the watches is, in practical terms, purely academic.
A one-of-a-kind creation for a lucky Chanel enthusiast
The Eclipse set, being a unique and limited collection, is likely no longer available to the general public. Like many special editions of this nature, it serves as a singular expression of the brand's creativity and artistry. While it may be a fleeting creation, we believe that stories like this help document and appreciate the artistry and innovation that Chanel and other watchmakers bring to the world of horology.