Cardi B Reveals Her Concert Fees In Post Explaining Why She Doesn't Tour
Cardi B Reveals Her Concert Fees In Post Explaining Why She Doesn't Tour. One of the best things you can do as an artist for your fans is to play shows in their area — but not every artist has the capacity or desire to perform a full tour. Some, even, don't have the need when festivals are paying out the ass to have you perform and eating the bulk of the production costs on their own.people are "are not fans"
Recently, Cardi B lashed out at followers on Instagram who "are not fans" to explain to them why she doesn't tour.
"LET'S SAY IF I GO ON TOUR AND I DO 600K A NIGHT RIGHT… SOUNDS GOOD BUT LET'S GET IN THE TOURING BUSINESS SHALL WE? STAGE PRODUCTION GOTTA BE MASSIVE SINCE THE FANS PAY MASSIVE SO JUST ON STAGE AND PRODUCTION I WILL HAVE TO PUT ABOUT 450K MAYBE MORE A NIGHT SINCE YOU KNOW BARDIGANG DESERVE EVERYTHING. DON'T FORGET, OUTFIT, MAKEUP, HAIR, I'LL BE LEFT WITH LIKE 150K A NIGHT"
Seems reasonable to me.
In the now-deleted post, she also shared the guarantees festivals are promising her for performing, including nearly $1 million at Open Air Festival and $500,000 at Veld Festival. All totaled, it adds up to more than $10 million in the span of less than two months. See the deleted post and full breakdown below.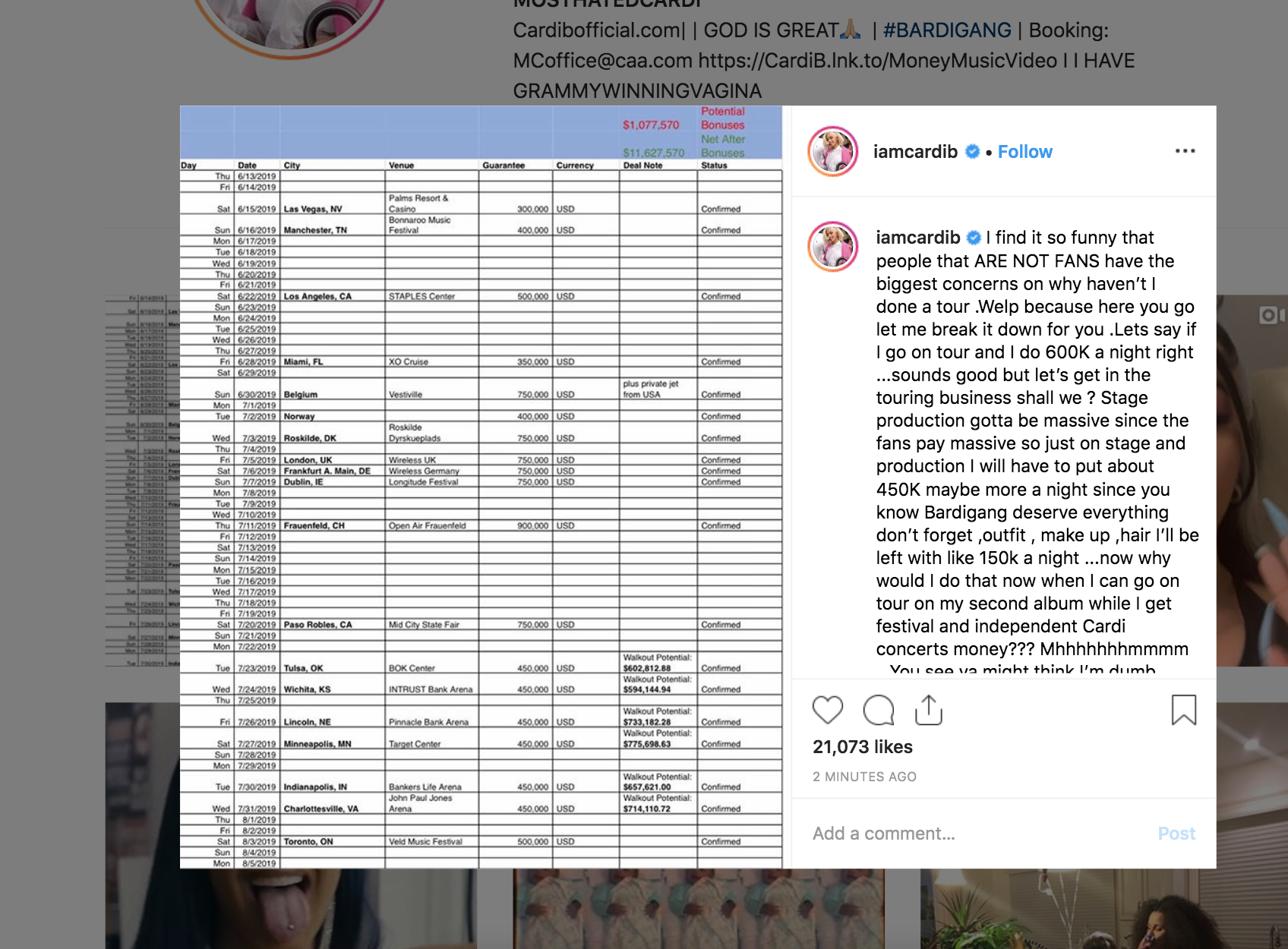 See a breakdown of Cardi's earnings below.
UNITED STATES SHOWS
6/15/19 at Palms Resort & Casino in Las Vegas, NV – $300,000 guarantee
6/16/19 at Bonnaroo in Manchester, TN – $400,000 guarantee
6/22/19 at BET Experience in Los Angeles, CA – $500,000 guarantee
6/28/19 at XO Cruise in Miami, FL – $350,000 guarantee
EUROPE SHOWS
6/30/19 at Vestiville in Belgium – $750,000 guarantee plus private jet from USA
7/2/19 in Norway – $400,000 guarantee
7/3/19 at Roskilde Dyrskueplads in Roskilde, DK – $750,000 guarantee
7/5/19 at Wireless UK in London, UK – $750,000 guarantee
7/6/19 at Wireless Germany in Frankfurt A. Main, DE – $750,000 guarantee
7/7/19 at Longitude Festival in Dublin, IE – $750,000 guarantee
7/11/19 at Open Air Frauenfeld in Frauenfeld, CH – $900,000 guarantee
NORTH AMERICA SHOWS
7/20/19 at Mid City State Fair in Paso Robles, CA – $750,000 guarantee
7/23/19 at BOK Center in Tulsa, OK – $450,000 guarantee
7/26/19 at Pinnacle Bank Arena in Lincoln, NE – $450,000 guarantee
7/27/19 at Target Center in Minneapolis, MN – $450,000 guarantee
7/30/19 at Bankers Life Arena in Indianapolis, IN – $450,000 guarantee
7/31/19 at John Paul Jones Arena in Charlottesville, VA – $450,000 guarantee
8/3/19 at Veld Music Festival in Toronto, ON – $500,000 guarantee