Be In Awe of the Massive Structure of the World's Largest Yachts
The Yachting industry is always in development and each year there's seems to be a mission to surpass all boundaries especially in regards to length and volume. Now, discover the top 10 largest yachts in the world! Explores the world of luxury yachts by showcasing the 10 largest yachts in the world to date that certainly had and will forever have an ever-lasting impact in the yachting industry. You can expect to see creations from some of the most renowned shipyards, including the likes of Lürssen and Vhlom+Boss. In actuality, many of these massive vessels are actually owned by royal families, so one can only imagine how majestic the exterior and interior design truly is.
#10 – A sailing yacht by Nobiskrug (468 feet, 5 inches)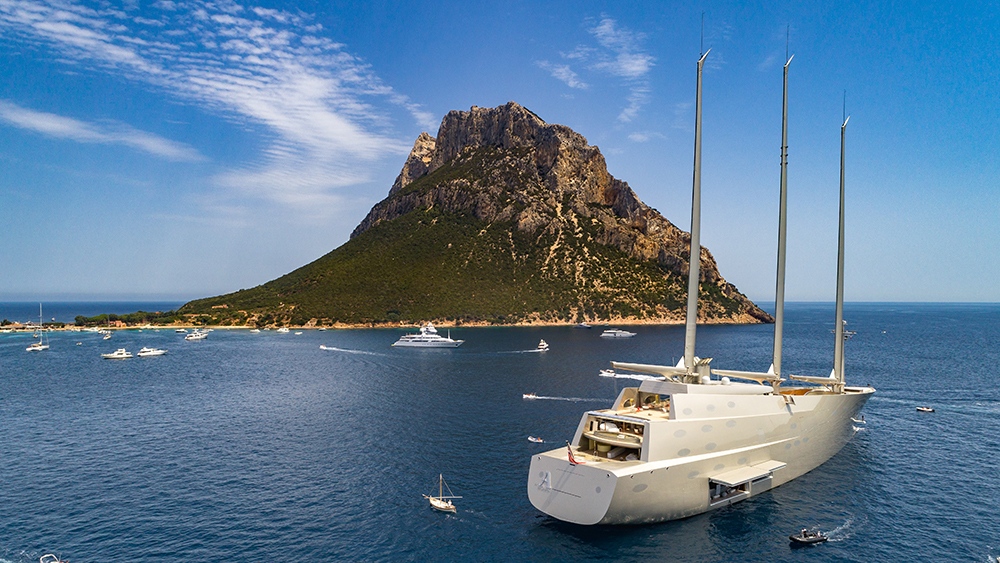 Image credit to Nobiskrug
Featuring a smooth and silver-metallic surface, A was delivered in 2017 and has quickly become one of the biggest vessels in the industry. The interiors of this sailing yacht were designed by the renowned creator, Philippe Starck. Some of her most outstanding features include a hybrid diesel-electric propulsion system, an underwater viewing platform, and of course, its unusual yet elegant shapes.
#9 – El Mahorousa by Samuda Brothers (478 feet, 1 inch)
Serving as Egypt's presidential yacht, the 478-ft vessel was officially launched back in 1985. El Mahorousa highlights external design by Sir Oliver Lang and has on a couple of occasions suffered modifications, mostly in regards to lengthening.
#8 – Prince Abdulaziz by Helsingør Værft (482 feet, 3 inches)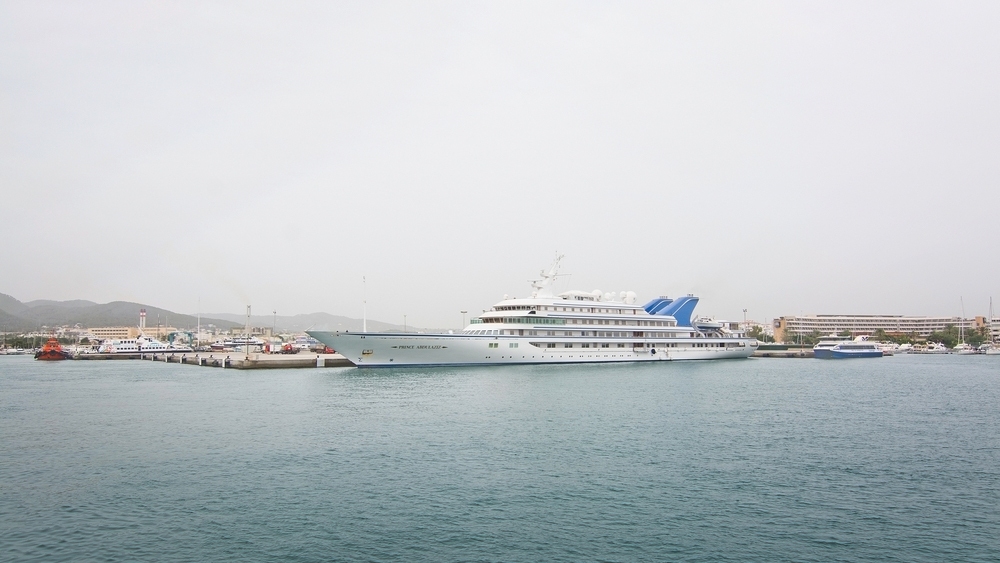 Shutterstock / Artesia Wells
Launched in 1984, in Denmark, this remarkable custom yacht was refitted back in 2005. The 482-ft yacht is one of the yachts of the Saudi Royal family and it actually held the title of largest yacht in the world for 22 years. The interiors were designed by the late David Nightingale Hicks and highlight bright colors whereas the lobby is said to be a replica of the Titanic.
#7 – A+ formerly known as Topaz by Lürssen (483 feet, 1 inch)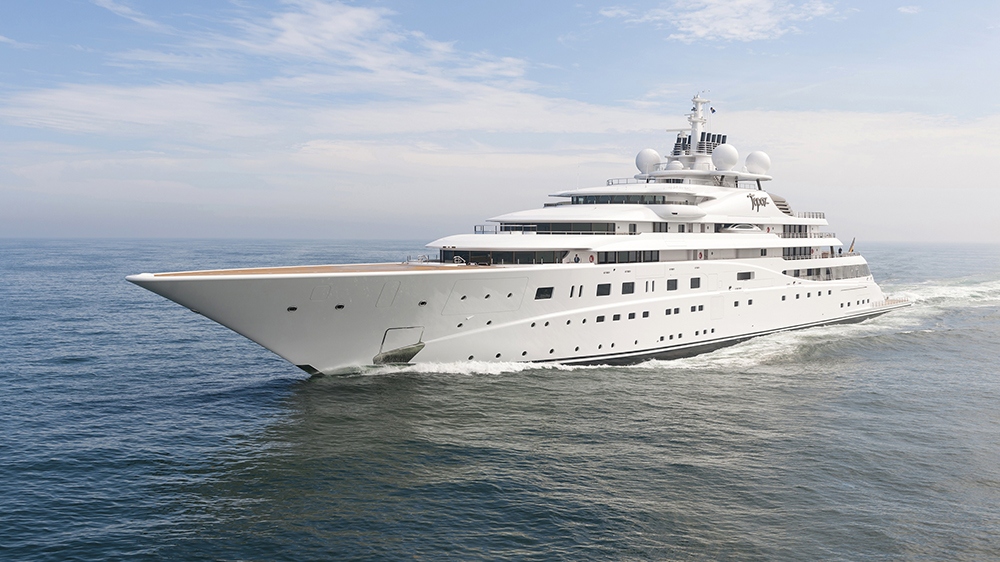 Image credit to Klaus Jordan
A+ was released in 2012 and it is actually the fourth-largest yacht by Lürssen. Tim Heywood was responsible for the exterior design while the interiors were decorated by Terence Disdale. The yacht is reported to be owned by Sheikh Mansour bin Zayed al Nahyan, the owner of the Machester City Football Club.
#6 – Al Said by Lürssen (508 feet, 5 inches)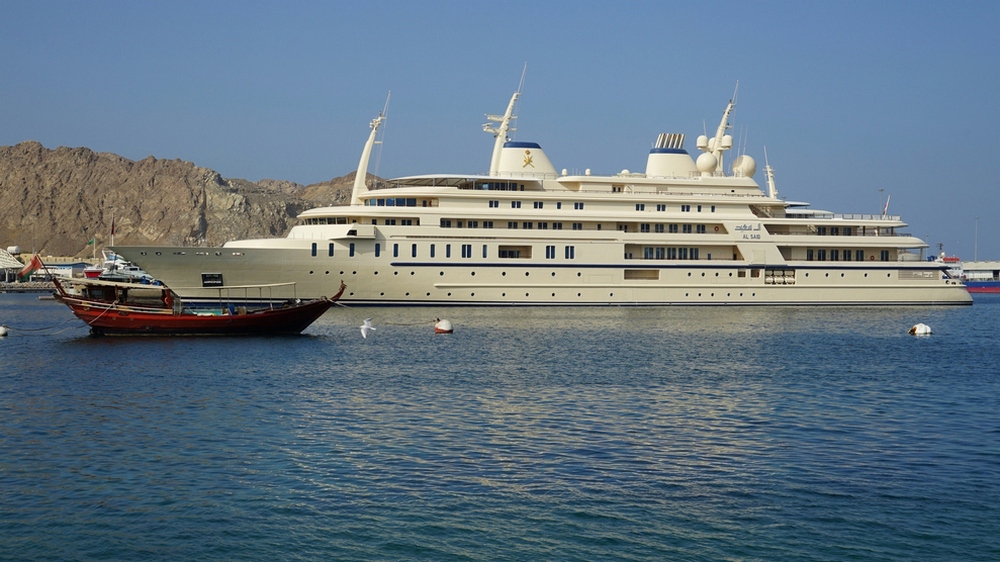 Image credit to Shutterstock
When it comes to creating large yachts, Lürssen is the top shipyard as you will see by this list. Originally entitled Project Sunflower, the 508-feet Al Said features exterior design by Espen Øino's exterior and Redman Whitely Dixon studio was in charge of the interior design. In regards to performance, the yacht can go a top speed of 22 knots.
#5 – Dilbar by Lürssen (511 feet, 8 inches)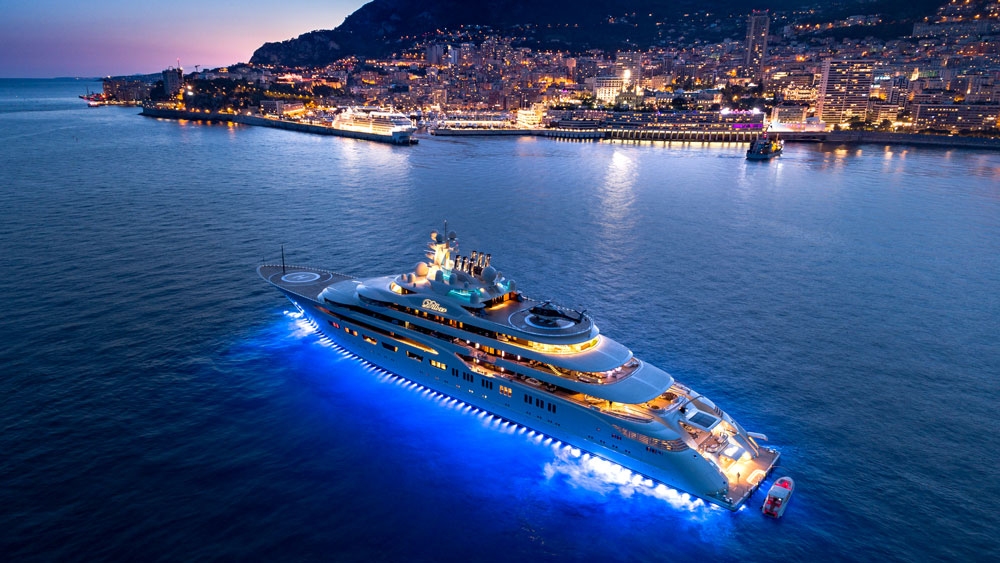 Image credit to Josep Baresic
Yet another entry for Lürssen and this time with the 2016-released Dilbar. Once again, Espen Øino collaborated with the German shipyard to conceive the lustrous exterior structure of this massive vessel whereas the interiors were designed by Winch Design, which is best described by a rare and exclusive use of luxury materials. In addition, the yacht boasts an 82-foot swimming pool.
#4 – Dubai by Platinum Yachts (531 feet, 5 inches)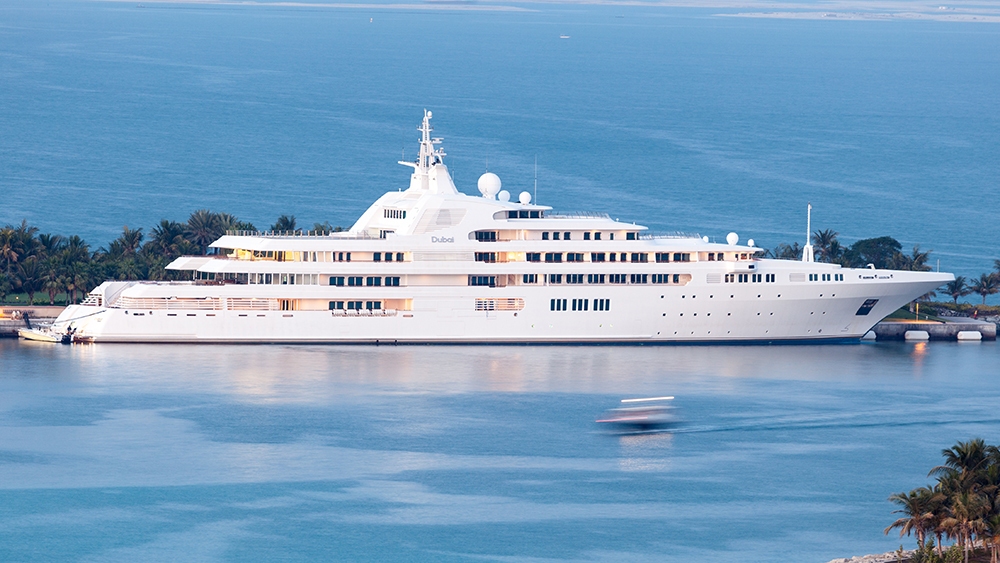 Image credit to Bigstock
Reaching a top speed of 26 knots, Dubai was delivered in 2006 and can accommodate up to 24 guests and quarters for 88 crew members. Some of her most impressive highlights are a 70-foot-wide atrium, a landing pad, a submarine garage, a cinema, and even a disco.
#3 – Eclipse by Blohm+Voss (533 feet, 1 inch)
Image credit to Shutterstock / R_Pilguj
The 533-ft yacht only took five years to design and build and delivered to billionaire Roman Abramovich. In 2010, it was actually regarded as the largest yacht in the world. Eclipse has 17 staterooms and a palatial master suite. Terence Disdale conceived both the interior and exterior of this vessel. The Blohm+Voss yacht is brimming with enticing entertainment areas, from a beach club to a humungous spa.
#2 – Fulk Al Salamah by Mariotti Yachts (538 feet, 1 inch)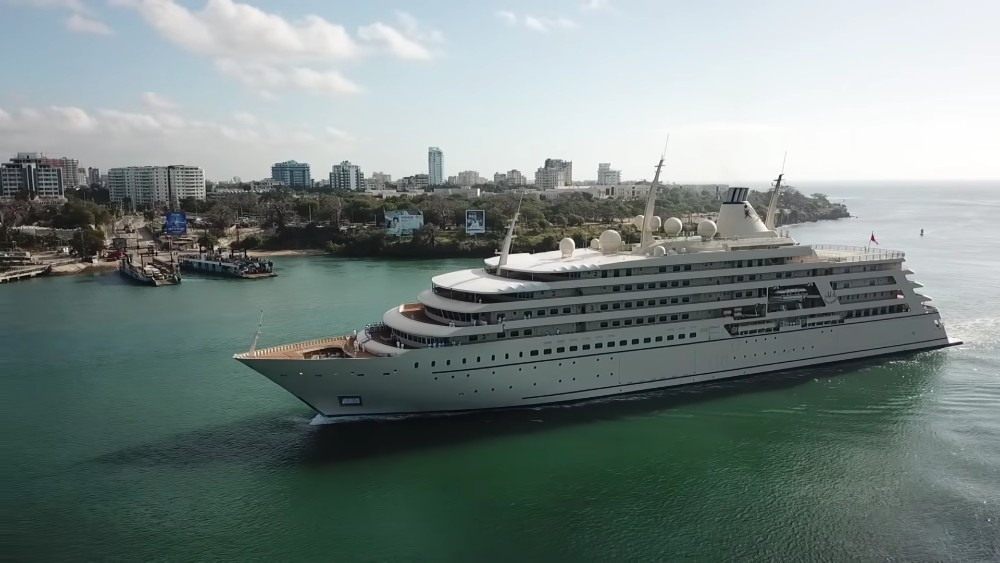 Image credit to Screengrab
While not much information has been disclosed about the world's second-largest yacht, this unique vessel was built in 2016 and presents an exterior designed by Studio de Jorio and it is rumored to be owned by the Omani royal family.
#1 – Azzam by Lürssen (592 feet, 6 inches)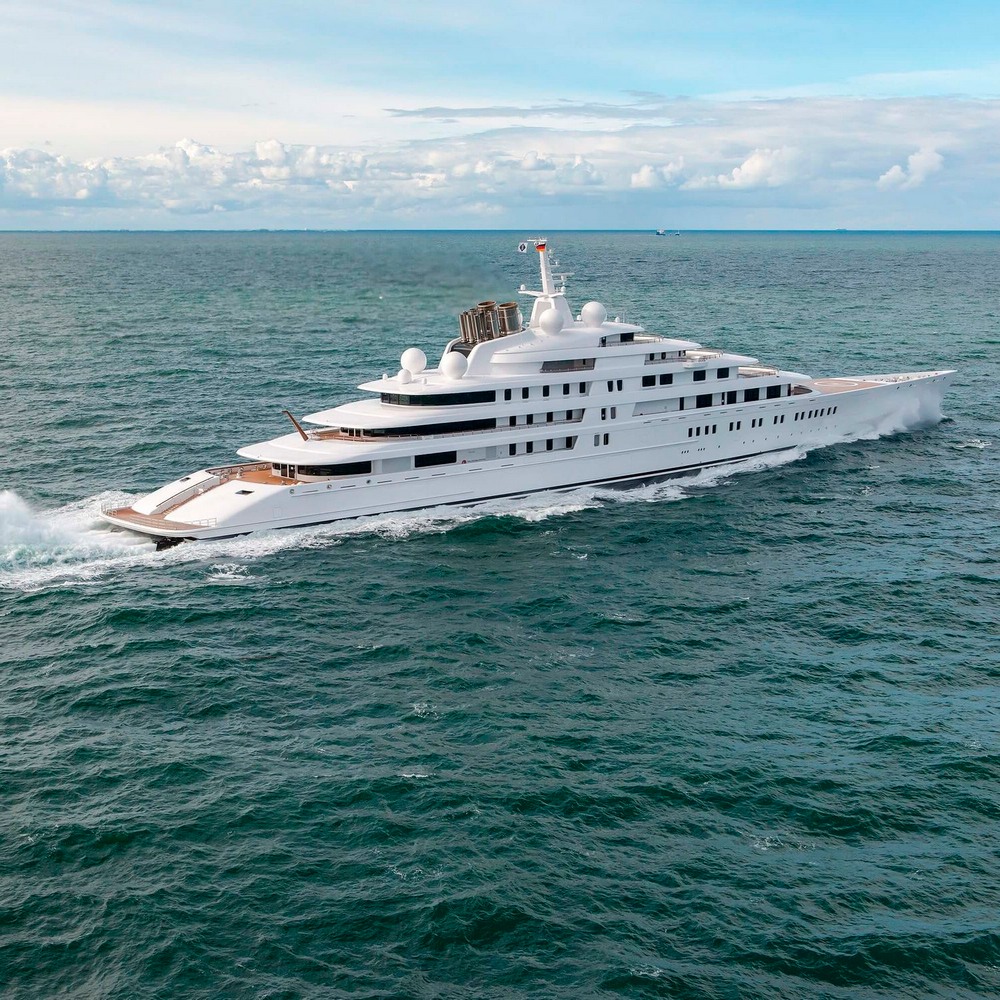 Image source: Nautic Expo
The title for the current largest yacht in the world goes to Azzam by Lürssen. This complex yacht was first unveiled in 2013 and its exterior design is by Nauta Yacht and its interiors are described to be sophisticated with decoration inspired by the Empire style of the early 19th-century. When it comes to performance, Azzam can cruise up to more than 30 knots of speed.
Source: Robb Report