Adele Is Reportedly Paying $58 Million For Sylvester Stallone's Beverly Hills Mansion
Image: Westside Estate Agency
Adele is reportedly paying $58 million for Sylvester Stallone's Beverly Hills mansion. The home, which sits on 3.5 acres of land and is located in the gated enclave of North Beverly Park, has eight bedrooms and 12 bathrooms. According to TMZ, Stallone bought the house in the 1990s and originally listed it for US$110 million, but no one was interested. The price was then reduced to US$85 million, and then to US$80 million in October.
Image: Westside Estate Agency
The house was built in 1994 and was designed by architect Edward Granzbach. "Even though the square footage is very large, it's a pretty traditional floor plan," says listing agent Jade Mills. It's a very simple house to live in." The home, which is located at the end of a cul-de-sac, provides a respite from the hustle and bustle of Hollywood. The property is also well-protected, with a gate enclosing the house and its immediate surroundings.
Image: Westside Estate Agency
A master suite, three spacious en-suite bedrooms, and two maids bedrooms are among the six bedrooms and nine bathrooms in the main house. A sauna, steam room, and office with a terrace are included in the opulent master suite.
Image: Westside Estate Agency
A two-story guest house with two en-suite bathrooms and a full chef's kitchen is also available. A formal living room with views of Rodeo Drive is located in the main building. A professional movie theater, a cigar room with an air filtration system, and a gym are among the other amenities.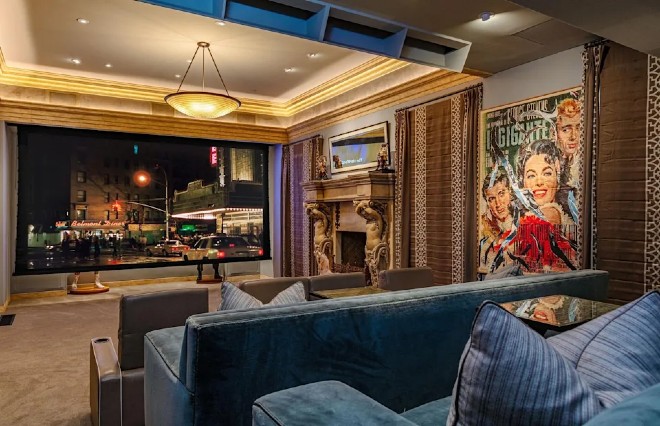 Image: Westside Estate Agency
An infinity pool, spa, and even a putting green are located outside the home on the expansive patio. The home's air-conditioned eight-car garage, which also includes an art studio, will appeal to car enthusiasts.
Image: Westside Estate Agency
Denzel Washington and Eddie Murphy are among the celebrities who have made their homes in the gated community. This is the English pop star's fourth home in the area, with the first three being within walking distance of other celebrities such as Katy Perry, Penelope Cruz, Ashton Kutcher, and others. Adele's real estate portfolio is estimated to be worth more than $30 million (excluding the newly purchased estate from Stallone). Despite her enormous success and growing fortune, the singer still considers London real estate to be prohibitively expensive.
The French chateau in Calabasas, which is just down the street from a Kourtney Kardashian home, is another home for sale that has recently made headlines. The 16,500 square-foot estate has seven bedrooms and ten bathrooms and is listed for US$32 million. The massive Bel-Air mansion known as "The One" will also be auctioned off next month for US$295 million, potentially making it the most expensive house ever sold in the United States. The massive home was expected to sell for around $500 million when it was first listed, but it was delayed due to legal issues.