5 Reasons To Visit The South Of Portugal
With its warm weather and its beautiful beaches, the Algarve is the perfect holiday destination! Check out our 5 reasons to visit the south of Portugal!
Lisbon might attract the city slickers, but it's the Algarve, the region of the south of Portugal, that visitors turn to enjoy the sun but not only. The Algarve is known around the world for its breathtaking landscape and no matter where you go, you will find beautiful small beaches to relax. Here are our top 5 reasons to visit the south of Portugal!
Warm weather
The south of Portugal enjoys sunny days nearly year-round, and the air temperatures remain mild as well. With more than 300 days of sunshine a year, the Algarve is one of the sunniest regions in Europe. It's rare for air temperatures to dip below 10°C (50°F) and the hot summer days feel cooler thanks to the Atlantic Ocean breeze.
Breathtaking sea caves
The winds and the waves have joined forces to create beautiful sea caves. The best ways to visit them are by kayak or boat but sometimes some are only accessible by swimming since the boats cannot get too close. One of the most beautiful sea caves is definitely the Benagil Sea Cave. It is a light-filled dome painted in shades of amber that encloses an intimate beach within its layered walls.
Beautiful Beaches
With over 200km of coastline, you should never have a problem finding one of the incredible golden sandy beaches of the Algarve. There you can swim in the crystal clear water or rent a canoe while enjoying a magnificent view of the steep cliffs. Some of the beaches, such as Praia da Bordeira, are famous surf spots as the Algarve has outstanding waves. Most of the time, there are a lot of steps to reach the beaches, but it is always worth it!
Stunning cliffs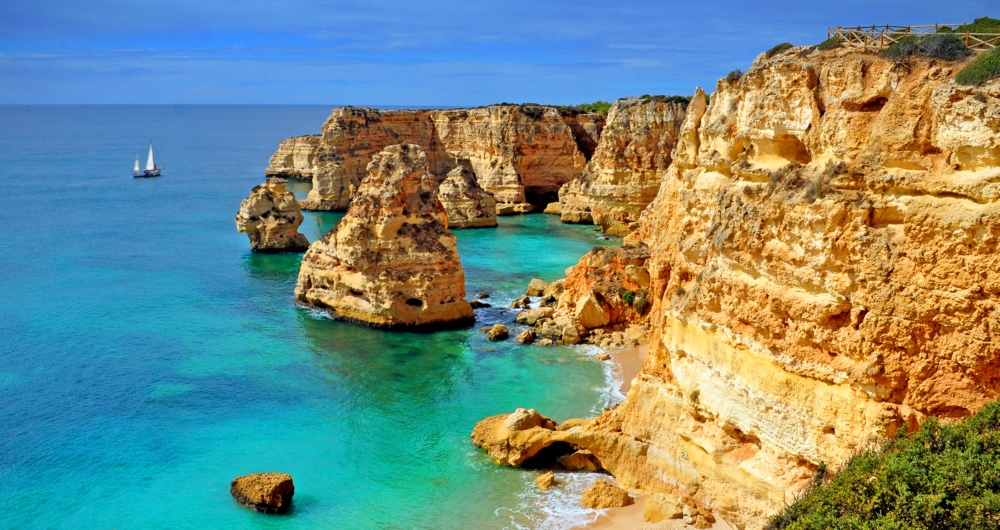 The landscape of the Algarve is rugged and beautiful. The south of Portugal has some of the most dramatic and wild cliffsides, specifically in Sagres. Lagos is also known for its fringe of multi-hued rocky exposures that wrap around crystal blue beaches. The cliffs of the south of Portugal are really unique and are definitely one of the reasons to visit the south of Portugal at least once in your life!
Lovely Ria Formosa Natural Park

The Ria Formosa natural park runs along 60 kilometers of coastline. It is a stopping place for hundreds of different birds during the spring and autumn migratory periods. This network of lagoons and islands is simply beautiful.